Pakistan
Chief of Deobandi terrorist outfit Ansarul Shariah Pakistan arrested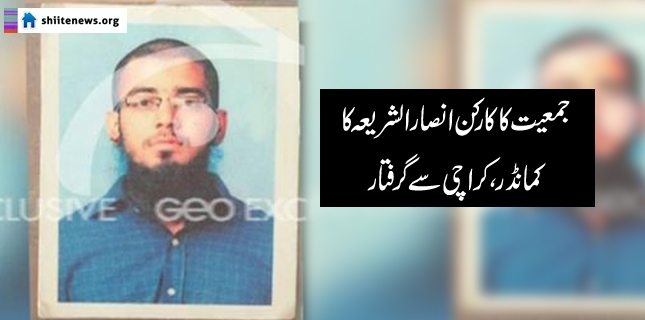 Security forces arrested Sheheryar, the head of Ansarul Shariah in Pakistan from Kaneez Fatima society on Monday night in the latest breakthrough against the Deobandi terrorist organisation linked to recent attacks in the city. Sources said Deobandi ringleader Sheheryar is also known by the alias Dr Abdullah Hashmi. These Deobandi terrorists were earlier affiliated with the proscribed ASWJ's sister wing Lashkar-e-Jhangvi, Taliban and Daesh.
Sheheryar aka Abdullah Hashmi, worked as an IT (Information technology) expert and was employed in computer department of NED University. He received his Master's degree in Applied Physics from the University of Karachi.
A high-level security source confirmed the arrest, claiming that more than six suspected terrorists were arrested in an intelligence-based operation (IBO) conducted by security forces and intelligence agencies in Karachi on Monday night.
Sources added that the Deobandi terrorists used to communicate through a smartphone app and also had recorded all terrorist activities carried out in the metropolis.
Those arrested are said to be previously affiliated with banned Wahhabis-allied Deobandi terrorist outfits Daesh, Lashkar-e-Jhangvi (LeJ) and al-Qaeda.
The law enforcers found important material from the house of Sarosh Siddiqui, the suspected mastermind of the attack on Khawaja Izhar, who escaped the police raid on Monday.
The laptops, mobile phones and USBs recovered from Siddiqui's house had key record of the organisation, which helped unearth the nexus.
Sources further added that one of the arrested individual was a graduate of a British university and the group comprised of highly educated militants.
The organisation had between 10 to 12 militants within its ranks, sources further added.
The latest act of terrorism claimed by the group was an attempt on the life of Muttahida Qaumi Movement-Pakistan (MQM-P) leader Khawaja Izharul Hassan as he left after offering Eid-ul-Azha prayers.
Police are searching for the suspected mastermind of the Eid-day attack on Khawaja Izharul Hassan, the opposition leader in the Sindh Assembly.
Police said that banned outfit Ansarul Shariah's commander, Sarosh Siddiqui, who escaped a police raid on Monday, is the mastermind of the attack and a student of Karachi University.
Police are conducting raids across the city to nab Siddiqui, who is on the run. Sources said several persons have been arrested in the raids, including an MSc student.