Pakistan
52nd Pakistan Defence Day being celebrated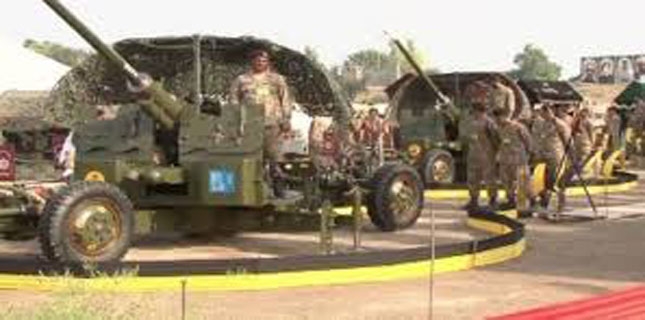 Defence Day of Pakistan marking the 52nd anniversary of the 1965 war is being celebrated with traditional fervour and solemnity across the country today on Wednesday.
The day began with special prayers for the progress and prosperity of Pakistan, followed by change of guard ceremonies at the mausoleums of Allama Iqbal in Lahore and Quaid-i-Azam in Karachi, and a ceremony at the Pakistan Navy headquarters in Islamabad.
Former army chief retired Gen Raheel Sharif reached Lahore's Miani Sahib graveyard, where he laid a floral wreath on the grave of his brother Maj Shabbir Sharif, who lost his life during the 1971 war on December 6 at Sulemanki Sector. The former army chief also offered fateha.
A number of events are scheduled to be held in connection with Defence Day across the country. The highlight of the day will be a function tonight at General Headquarters in Rawalpindi to pay tribute to the martyrs.
Messages from the president, PM
President Mamnoon Hussain and Prime Minister Shahid Khaqan Abbasi in their separate messages on the occasion paid homage to those who laid down their lives in Pakistan's defence.
The government has launched National Action Plan under which the armed forces, police and law enforcement agencies are successfully rooting out the menace of terrorism and extremism from the country, the president said, according to Radio Pakistan.
The prime minister in his message said: "We can only defeat our enemies through strict adherence to the cardinal principles of unity, faith and discipline laid down by the Father of the Nation [Quaid-i-Azam]".
He said Pakistan is on the path to economic development and counterterrorism operations carried out by the Pakistan Army have broken the backbone of terrorists, Radio Pakistan reported.