Pakistan
Another Shia seminary student taken into illegal custody in Punjab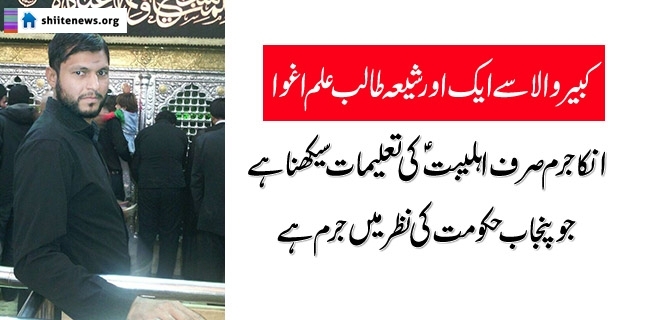 A Pakistan Shia Muslims studying in the religious seminary in Iranian city Qom was taken into illegal and undeclared custody in his native town Kabir Wala in Punjab.
Falak Sher, hailing from Moza Kand Sargana, Kabir Wala, is a registered student of Jamia al Mustafa Al Alamiya, Qom. He was accompanied by his elder brother when some people in civil dress came and dragged him to their vehicle.
His elder brother resisted and insisted that the raiders must make known their identity but they pointed gun at him to force him to stay away.
Two brothers, both the students of religious seminaries, belonging to the same Kabir Wala area were also whisked away and later they were released.
Punjab government and biased security officials are engaged in crackdown on innocent Shia scholars, notables and seminary students to harass them and detain them without any charge against them. More than 100 such cases have been reported, so far.
Shia Muslims of Pakistan have expressed their dismay and concern over the enforced disappearance of Shia scholars, notables and seminaries students and demanded an end to this campaign and release of all those detained so far.