Pakistan
Shia Muslims mourn demolition of Jannat ul Baqee graveyard on anniversary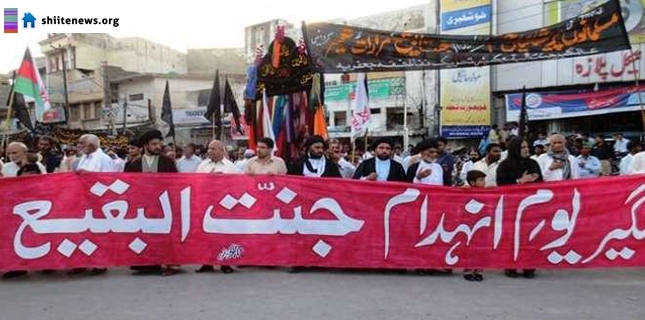 Pakistani Shia Muslims have begun observing the anniversary of demolition of historical Islamic graveyard of Jannat ul Baqee in Medina, in all over Pakistan.
Last night, main mourning rally was taken out in Karachi from Khair ul Amal to Shahrah-e-Pakistan where Sunni scholars Maulana Faisal Aziz, MWM Chief Allama Raja Nasir Abbas Jafari and Allama Furqan Haider Abidi spoke.
Today, MWM and TNFJ's rallies are being staged to mark the anniversary of demolition of Jannat ul Baqee.
House of Saud occupied the sacred Islamic land of Hijaz and turned it into a part of their Saudi Kingdom and under Wahhabi ideology they razed the sacred and historical graveyard in Medina. The graves of family members of Hazrat Mohammad (PBUH) and of his companions were reduced to dust under Wahhabi operation.
Entire Muslim world detest Saudi kingdom for demolition of Jannat ul Baqee and continue to demand that Jannat ul Baqee must be reconstructed and restored with its shrines and graves like they did in the past.