Pakistan
MWM chief demands PM and interior minister to resign for putting national security at stake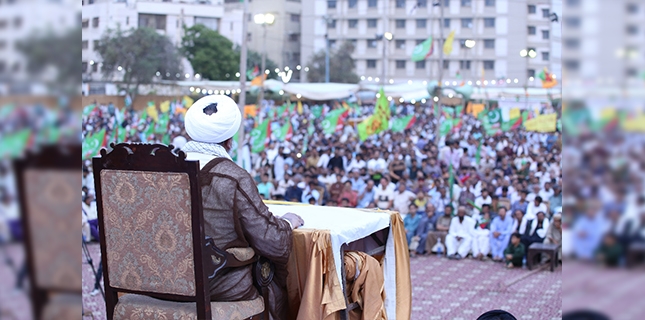 Allama Raja Nasir Abbas Jafari, secretary general of Majlis-e-Wahdat-e-Muslimeen, has demanded that Prime Minister and Interior Minister should resign for putting the national security at stake.
Addressing the 'Stability of Pakistan and Imam Mehdi Conference' at Nishtar Park Karachi on Sunday, he said, the Prime Minister and Interior Minister for directly responsible for media leaks and other security lapses hence they should resign.
He said that MWM is ready to join hands with all like-minded parties and individuals to bring Pakistan back to its prestigious position.
"Pakistan must not be enslaved by Kingdom of Saudi Arabia, U.S., or any other country," he said.
MWM hosted the event where thousands of supporters from Karachi and other parts of Sindh attended. The zealots were hoisting their party's flags and raising slogans to express support for their leadership.
Amid the slogans of Labbaik Ya Mehdi, Allama Raja Nasir further said that Pakistan was enslaved by Kingdom of Saudi Arabia and U.S. hence all Pakistanis are duty-bound to liberate Pakistan from the undue influence of these two countries. He said that Pakistan was again pushed to Saudi war in the Middle East to advance the anti-Pakistan interests of Saudi kingdom.
He said that Pakistan needs a robust and fair foreign policy that must be based on principles. He said that founding fathers of Pakistan mainly Mohammad Ali Jinnah and Allama Iqbal had never dreamt of the Pakistan that PMLN government has made it. He said that ideology of pioneers of Pakistan was based on principles of help and assistance to the oppressed people of the world but PMLN government stood shoulder to shoulder with oppressors instead of the oppressed people.
"Pakistan is being ruled by corrupt politicians hence they must be held accountable for their corruption first. These corrupt people serve their business interests instead of advancing Pakistan's legitimate interest as a nation," he said.
Allama Raja Nasir demanded friendly policy for all neighbouring countries including Iran and Afghanistan and also announced support to the China-Pakistan Economic Corridor.
He called for implementation of National Action Plan in letter and spirit. He said that takfirism must be eliminated from all over Pakistan. He urged that facilitators and proponents of ideology of takfirism must be taken to task. He said all terrorists must be hanged to death. He said that the terrorists, who massacred Shia Muslims, should also be tried in the military courts and be awarded capital punishment. He announced support to Operation Raddul Fasaad and said that Shia Muslims back army jawans in their operation against terrorists.
MWM chief said that biased and pro-takfiris elements with the state authorities always tried to divert the focus of the National Action Plan and counterterrorism actions from takfiris and banned outfits to innocent Pakistanis and that malpractice must be discouraged and those did so must be brought to book.
He lambasted the government over unemployment, bad economic conditions, reduced investment in Pakistan, neglecting of Pakistani business community and widening gap between institutions.
Allama Jafari vowed that his party would continue its struggle and join hands with all like-minded parties to exert pressure on the government to focus on making Pakistan an invincible country instead of a colony of Saudi kingdom and United States.