Pakistan
Reports reveal how Sehwan bomber entered the shrine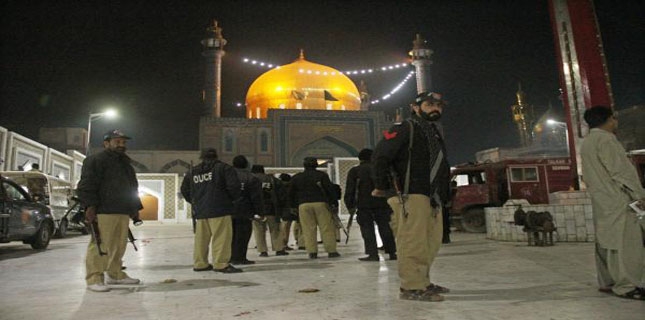 Now ridden with blood, victims' clothes, and half-eaten food, the compound that leads to the main hall of the shrine was brimming with around 1,000 people when it was crossed by the suicide bomber.
Sifting through intelligence reports and strings of information pieced together, we have tried to retrace how the attack was carried out and why the attacker was not apprehended.
The shrine of Sufi saint Lal Shahbaz Qalandar, built in 1356 in honour of one of Sindh's most revered poet, philosopher, and Sufi saint, is also one of the most famous in Pakistan. It is a place that welcomes all, regardless of their religion, cast, or creed.
Originally from Persia, it is believed that Saint Syed Muhammad Usman Marwandi resided in Sindh during the 13th century. Lal Shahbaz Qalandar or 'Laal Saeen' (as he is remembered by his followers) preached peace and tolerance.
The shrine of Lal Shahbaz Qalandar, decorated with traditional Sindhi Kashi-tiles with inlaid mirror work and a grand golden gate donated by then Shah of Iran, Raza Pehalvi, is brimming with devotees every Thursday, especially in the evening.
The attack
It was around 6:30PM when the attacker entered through the golden gate of the shrine, investigation reports have revealed. Clad in a burqa, the bomber managed to make his way inside without being searched since there were no female security personnel present at the entrance. The golden gate is one of the main gates of the premises.
The suicide attacker managed to wade through the crowd without catching attention, more so because the main lights were turned off for the dhamaal, a ritual in which people are usually in a trance. Everyone's attention was focused on the dhamaal, even those who were not could not have spotted a suspicious person entering the main hall as a large number of people kept entering and leaving the area.
Inside, the hall was crammed with men and women revering the dhamaal, with children running across while others tugging at their mothers' dupattas, not knowing death loomed moments away.
By the precision of movement traced in investigation reports, it appears the attacker had surveyed the area. The timing and spot also appeared pre-planned, as a large number of people from different social and economic backgrounds visit the shrine on Thursdays. Although the shrine is one of the most famous in the country, none of its main entry points were guarded, which made it easier for the terrorist to carry out his nefarious plan.