Pakistan
Pro-terrorists Ummat daily maligning anti-takfiri Shia leaders of MQM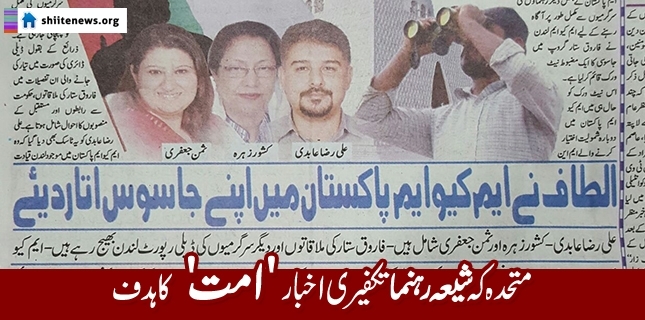 Karachi-based Urdu daily Ummat that had been preaching the ideology of Taliban and al-Qaeda with pictures and sayings of Mulla Omar and Osama Bin Ladin on front page has begun maligning Shia leaders of Muttahida Qaumi Movement-Pakistan.
The Ummat daily has recently published misleading news against the Shia legislators belonging to MQM Ali Raza Abidi, Saman Jafari and Kishwar Zehra. The daily has wrongly accused the three leaders of being the loyal to the MQM's London-based founder Altaf Hussain and spying for him, a charge that MQM Pakistan leaders themselves have rejected.
Shia politicians and MQM as a whole always have been made targets by Ummat daily whose editor Rafiq Afghan has never missed any opportunity to defame his own Deobandi school of thought by making similar maligning charges against the eminent Deobandis.
Ummat had published a scandal of the women family members of Maulana Yousuf Ludhianvi, founder of Jamia Binouria defaming his widow also.
Hence, the biased Ummat daily is detested by saner readers and patriot Pakistanis including those Deobandis who are well aware of the mindset of Rafiq Afghan who is also considered a stooge of the foreign intelligence agencies.