Pakistan
Balochistan: Shia cleric Mehdi Najafi remain safe in bomb blast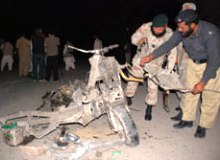 Shia Ulema Council Balochistan President Allama Mehdi Njafi remanied safe in the bomb blast at Quetta Airport Road, however, at least two people were killed and 14 others wounded in an apparent bomb blast at Airport Road area here Monday. 
According to the Shiite News, A statement issued by the Shia Ulema Council Balochistan said that the following the blast at Airport Road Quetta, was conducted to target Shia leader Allama Ghulam Mehdi Najafi, however, he remained safe in the blast but his gurad was severly injudred in the blast and his vechile was damaged in the bomb blast.
However, The bomb was planted in a Rickshaw parked near railway line at Airport Road area of the city and went off in evening. The blast was as powerful as it damaged three others vehicles parked nearby.
Two dead bodies and 14 injured have been rushed to a local hospital, police said.
The blast occurred in the rickshaw and adjacent vehicles were also affected. 
According to bomb disposal squad 15 kilo explosive material was used in the blast. The nature of the blast is unknown.
Heavy contingents of police and Frontier Constabulary reached the scene and cordoned off the area. Probe has been initiated into the incident.
Hundreds of Shia community people havemartyred in target killing incidents and bomb blast in the province since the last five years However, the Government has failed to arrest the terrorists and their patrons involved in the genocide of Shia Muslims in Balochistan.