Pakistan
July 17: Kaneezan-e-Zainab to Protest Across Pakistan Against Govt's Oppression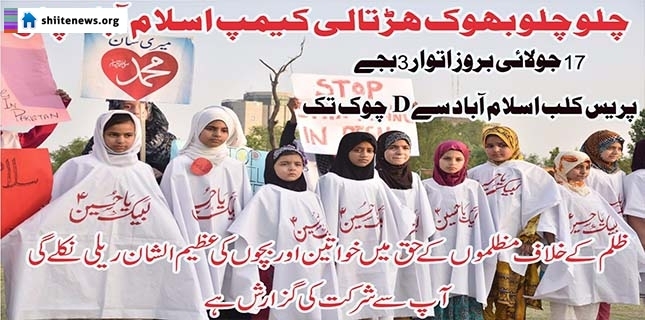 Majlis Wahdat ul Muslimeen (MWM) Deputy Secretary General Allama Ahmed Iqbal said that on the orders of their leader Quaid MWM Allama Raja Nasir Abbas Jafri on July 17 the women of this nation will rally a protest against the on-going terrorism, target killing, Subjugation of Azadari and State's oppression and ignorance.
He said that it's ghastly of the government to have given a deaf ear to the two month long on-going hunger strike whereby the women of Pakistan reserve the right to protest on July 17 rallying across Pakistan.
The details provided state that the preparations for women protest rallies have been completed across the cities. He said that Kaneezan-e-Zainab (Servants to Bibi Zainab) will hold a gathering from Press club to D-Chowk, Islamabad. Protests will be witnessed at around 2 p.m. in front of Press Club, Rawalpindi; In Lahore a large scale rally will be taken out at around 5 p.m. from Press Club to Assembly Hall. Similar rallies will be witnessed in cities across Khyber Pakhtunkhwa, Balochistan and Sindh whereas a Central Rally is organized in Karachi at around 4 p.m. from Numaish Chorangi to Imambargah Ali Raza.
Allama Ahmed Iqbal appealed of Kaneezan-e-Zainab (as) to participate into the rallies voicing their message against terrorism.