Pakistan
Demand of Special Force to Protect Harmain Sharifain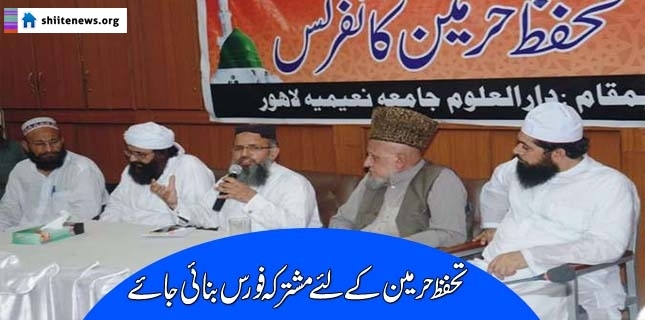 Renowned religious scholar and administrator Darul Uloom Jamia Naeemia Allama Dr Raghib Hussain Naeemi, while addressing "Tahafuz-e-Harmain Conference" at Jamia Naimia Lahore, said that the muslim ummah should get united to fight against the the threat of ISIS (Daesh); Saudi's should develop values leaving their policy of desecration of mausoleums, not only to abolish this policy but as well find it sacred in their faith to protect them. He demanded a global "United Force" under OIC to defend Harmain Sharifain which stands divine to every muslim in the world.
He asked leaders of muslim nations to join hands in defending Harmain Sharifain, as nothing prevails our Prophet (SAWWS). He said enemies should bear this in mind that we will shed our lives, children and parents for the sanctity of Prophet's Shrine.
He expressed that protection of Harmain Sharifain is not a political issue but a religious duty. ISIS (Daesh) and organizations as such remain blemishes in the face of peace-loving Islam. Demands of sharia can only be met following Prophets' Life, Enemies stand united against one common enemy – ISLAM, while we stand divide being muslims.
The conference was addressed by maulana Ahmed Ali Qasoori, Mufti Muhammad Rizwan Siyalvi (Khateeb Masjid Data Darbar), Sahibzada Raza-e-Mustafa, Chief Tahafuz-e-Namoos-e-Risalat Mahaz Professor Liaquat Ali Siddiqui (Central President Naeemain Association Pakistan), Naqshbandi Barrister Waseem ul Hassan Shah (Leader Jamiat Ulema Pakistan), Sahibzada Maulana Mujahid Abdul Rasool (Leader Pakistan Sunni Tehreek Founder Idara Fikar-e-Jadeed) Allama Dr Muhammad Mustafa Aqeel, Mufti Naeem Ahmed Sabri, Professor Irshad Iqbal Naeemi, Amanat Rasool Muhammad Zia ul Haq Naqshbandi (Chairman Tanzeem Ittehad Ummat) Mufti Muhammad Imran Hanafi, Maulana Asif Nomani, Maulana Muhammad Rafeeq Naqshbandi, Maulana Ahmed Baksh Siyalvi, Maulana Riaz Ahmed and other renowned cleric from Pakistan.
Maulana Ahmed Ali Qasoori said that in order to fight the enemy we should strengthen ourselves in terms of education, politics, military and ideology; Clerics are to play their part in order to stop enemy's path.
Mufti Muhammad Ramzan Siyalvi said that terrorism stands as a world's problem; unless we rid ourselves of sectarian mind-set there is no hope.
Sahibzada Raza-e-Mustafa Naqshbandi said that we will not stand back to protect the sanctity of mausoleums; Terrorists spreading militancy across the world have ulterior motives; Islamic world should stand tall against this threat of militancy.
Sahibzada Amanat Rasool said that Ummat should develop a long term plan to bring about a resolve.
Barrister Waseem ul Hassan said that it is only through unity that one can curb the illicit motives of Jews and Zions, Sectarian culture has brought about a irrevocable damage to the nation.