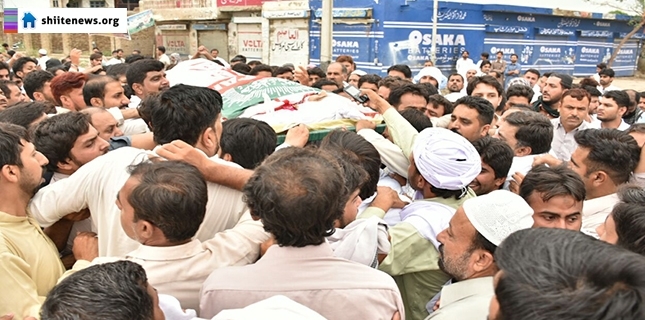 Eid again proved bloody for Dera Ismail Khan (DI Khan) when on the very first day Majlis Wahdat ul Muslimeen (MWM) Shura-e-Ala's Advocate Syed Shahid Abbas Shirazi was martyred in front of his brothers at Wensam college, Multan Road.
Late Advocate Syed Shahid was the son of FIA officer Late Mustaq Hussain Shirazi. Syed Shahid was on his way home along with his brother from Chah Syed Munawar. His brothers went into a bakery to purchase some confectionary, leaving him behind when they heard shot being fired. The assailant shot him from a close range which resulted in the martyred to have received 5 bullets behind his face. Before the brother could reach him, the perpetrators had fled the scene. Syed Shahid was rushed to the hospital in critical condition, where he succumbed to his wounds. His martyrdom was tragic for not only the people of DI Khan but as well for the whole of Shiite nation.
Shiite organization nation-wide condemned the killing and in reaction a number of protests erupting the region demanding immediate arrest of the murderers. It is pertinent to mention there that since the month of March, target killing in DI Khan has increased to have engulfed two teachers, seven police officers, four lawyers, two traders and a bank's security guard. Law enforcement agencies are yet to find or apprehend the assailants.
Syed Shahid Shirazi's funeral prayer was announced to be held the next day 9 a.m. at Kotli Imam Hussain. The next day a joint protest by Majlis Wahdat ul Muslimeen, Imamia Student Organization and Shia Ulema Council was witnessed since morning demanding funeral to be delayed till justice is prevailed. Masses flocked in for the announced sit-in, resulting in life in DI Khan to have come to a halt.
Maryali Road was totally blocked for any traffic since protesters (ladies) occupied the road. Traffic took to an alternate Qureshi Interjection to reach the bypass. One the other hand, Syed Aliyan at Chashma Road was completely blocked bringing DI Khan to a practical no-go. Traffic from within the city was halted by blocking Main Bannu Road and Chah Syed Munawar Road where as blocking Chashma and Multan Road blocked any traffic from outside.
Usually people from across the country come to Tank, Kolachi, Rangpur, Paharpur, Daman on Eid second day to entertain themselves. But the demonstrators blocked all main stream roads making it impossible for the tourists to reach their spots. Local administration was badly inflicted due to these road blocks and was seen helpless in dire situation. Police was called in to control not only the chaotic traffic but as well the disarrayed people of the region.
Tension rose when two brothers riding a motorbike were targeted at Usmania Street, Eidgah Kullan area. Police registered an FIR for martyred Noor Alam and Shair Zaman, belonging to the tribe of Datta Khel, against unknown miscreants. This incident resulted in another protest and sit-in at Eidgah Kullan Road, blocking that part of the city as well. Three murders in a day caused havoc in the city with masses fearing their lives. The local administration tried negotiating terms with the organizations protesting but to no avail. The organization developed an 8 member committee for negotiations, which in their first session were met with Station Commander and Brigadier of Kotli Imam Hussain (AS). The second round of dialogue commenced with District Police Officer and Provincial Minister of Law Ali Ameen Khan Gandapur resulting in the funeral of Shahid Shirazi at around 6 in the evening. The protesters of sit-in dispersed peacefully after the burial of the deceased.
The demands laid down by the protesters were to change the prevailing DPO, suspension of DSP, special relief package for the family of martyred, resignation of the elected MPA Ali Ameen Khan Gandapur, arrest and punishment for the perpetrator, an operation in DI Khan on the pattern of Zarb-e-Azb, handing over of DI Khan to army as police has failed to provide security to its people and immediate action par National Action Plan. Though the demands were not immediately met lest the security officials, administration and police have ensured the committee that in the coming days a change would be observed.
During the protest a number of firing incidents were reported. Unknown miscreants tried to close shops using aerial firing at Ghas mandi which resulted in search operation and raids by the police in the Muhalla Shaheen. Likewise, police injured innocent protesters in order to curb the protest in the area of Kotli Saidan, while making two arrests.