Pakistan
Allama Raja Nasir Abbas in Al-Quds Rally, Islamabad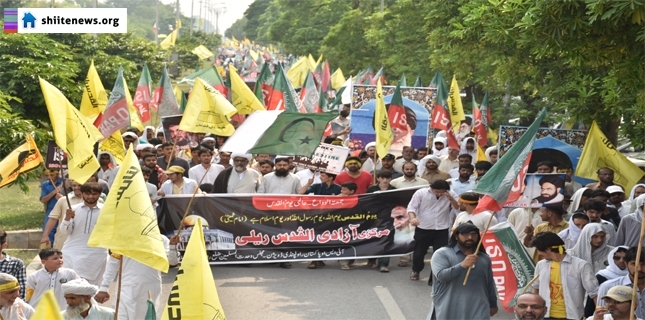 Majlis Wahdat ul Muslimeen (MWM) and Imamia Student Organization (ISO) marked the day of Quds through their yearly rally that came out from Imambargah Asna Ashari G-6/2, Islamabad.
MWM and ISO organize rallies throughout Pakistan commemorating Al-Quds Freedom every last Friday of their holy month Ramazan.
Unlike every year, this year stands unique as MWM already had its hands full with a hunger strike protesting terrorism and target killing of innocent Shiites in Pakistan. MWM chief Allama Raja Nasir Abbas has set a new unprecedented record of an on-going hunger strike in Islamabad for 52 days.
Allama Raja Nasir Abbas addressed the immense rally of Quds that included women and children from all walks of life and to mention Allama Ejaz Bahisthi, Allama Azghar Askari, Allama Abdul Khaliq Asadi, Allama Ali Shair Ansari, Allama Samar Abbas Naqvi, Allama Aqeel Khan Baloch, Allama Ali Akbar Kazmi, Allama Zaigham Abbas and many more.
Allama Nasir emphasized that the Karbalai ideology has swept away Israel's dream of governing Dajla-Furat. The struggle of the oppressed has confined the Zionist regime to a minimum. He said the muslims, though out-numbered, barely equipped; have the heart to face a regime ten times stronger than them, is only through Allah's will and Quran's Grace.
He acclaimed that irrespective of consequences we stand with the oppressed, lest it be of Palestine, Syria, Bahrain, Afghanistan, and Kashmir etc. He said that we stand here united, ready to sacrifice, only for our brothers out there. This rally itself is a claim that we are successful in standing together with our oppressed muslim brothers across the globe.
He said that Zionists best policy was to divide and today's milieu gives a brilliant scenario how muslims stand divided among factions. He urged the need of unity among muslims, to develop a brotherhood. He emphasized the only way to protect the sovereignty of Quds and its freedom is through this unity.
Once migrants now resident, Allama Nasir said, the Israeli regimes' policy of divide has come into play and with that muslims, not only in Palestine but across the middle-east, are suffering its feat. The largest section of refugees in the world are muslims and for what reason, we have to ponder? Muslims have to sit together, think through, put differences aside and face this menace which has one and one enemy only ISLAM. Fight varied enemies together weakens us, but Zionists have us as enemy only. With all its concentration on muslims around the world, ISLAM suffers. Allama praised Imam Khomeini and his due efforts for the day of Al-Quds.