Pakistan
Ahmed Ludhianvi Replaces Asim Bajwa | Announces 'Nara-e-Haideri' out from Armed Forces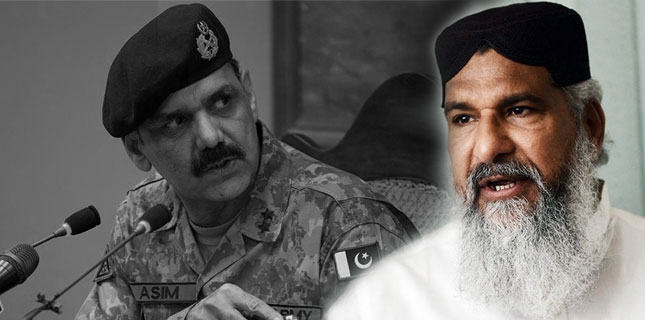 Ahmed Ludhianvi, chief of banned outfit Ahle Sunnat Wal Jamaat (ASWJ), outsted 'Nara-e-Haideri' from Pakistan Army Flanks; the only Nara now permissible is Nara-e-Tawhid.
Recently, Ahmed Ludhianvi and Aurangzeb Farooqui left for Saudi Arabia despite their name being in the list of Schedule 4. A new flare of terrorism/sectarianism was anticipated upon their return. Not even back in Pakistan, they have left a video message for the people of Pakistan advising them of their new position in Pakistan Army.
They declared that from hereon Pakistan Army would not shout out loud Haideri (Nara-e-Haideri) but instead would utter Takbir only.
Being in a country foreign to their land and amid people who are not natives, Ludhianvi is seen confirming someone that Pakistan Army would not do this affair anymore. Weird as it is, what authority Ludhianvi has over Pakistan Army? Unless he has some authority that the Pakistani's aren't aware of? Guess Ludhianvi has taken over Gen. Asim Bajwa's seat as spokesman.
It is evident that Nara-e-Haideri is a War Outcry used by men with extraordinary valor. Men have won battles with this Outcry and so has Pakistan since 1948.
Ahmed Ludhianvi has taken precedence to Pakistan Army dictating them his terms. With our military taking orders from non-state actors who remain puppet to Saudi regime, it should not surprise the nation when FC kills innocent shiites in Parachinar. With vested interest of Saudi's in our Army, State-patronized terrorism against particular factions should not baffle us.