Pakistan
Aurangzeb Farooqui & Ahmed Ludhianvi in Saudi Arabia Despite their Names in Schedule 4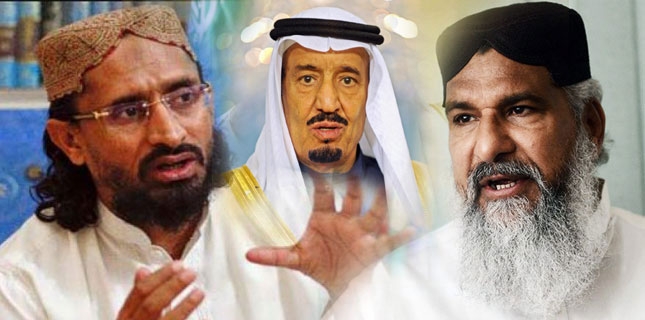 Leaders of the proscribed Takfiri militant organization Ahle Sunnat Wal Jamaat (ASWJ) Ahmed Ludhianvi and Aurangzeb Farooqui are in Saudi Arabia at the moment, media reported on Saturday.
It is no news for Pakistan that ASWJ formerly Sipah Sahaba Pakistan (SSP) has been proscribed for a number of years being involved in mass massacre and target killing. Chief of ASWJ Ahmed Ludhianvi and another leader and mass murderer Aurangzeb Farooqui, named in a number of cases around Pakistan for murder, had been put in Schedule 4 of the Anti Terrorism Act by the government.
Despite their names being in the list they have managed to travel to Saudi Arabia and are scheduled to meet high profile members of the Kingdoms' Royal Family.
Schedule 4 of the Anti Terrorism Act not only dictates the member to stay within a restricted parameter, but as well bars them from unnecessary travel. They are to take permission from their local police station even to leave the area. Lest now the two reside in Saudi Arabia, next to their partons/partners in crime.
Saudi Arabia has been funding and actively involved in terrorism across the globe. Should it be the middle east crisis, carnage of innocent muslims within the continent or killing of foreign nationals; it can easily be traced back to the Kingdom.
The two culprits are suppose to device a new plan, together with their patrons, for a new flare of terrorsim in Pakistan.