Pakistan
State Patronized Deobandi Terrorists Martyred Amjad Sabri | Punished for Praising AhlulBait (AS)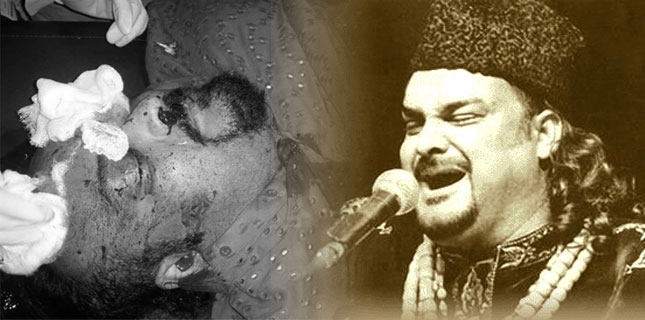 Famous Qawwal Amjad Sabri was martyred on Wednesday afternoon when Takfiri Deobandi terrorists martyred him by firing at his vehicle in the city's Liaquatabad area, Karachi.
Sabri and an associate were travelling in a car in Liquatabad 10 area, when Takfiri Deobandi gunmen fired at their vehicle, critically injuring him. The two were shifted to Abbasi Shaheed hospital immediately, where both succumbed to their injuries.
Additional police surgeon Dr Rohina Hasan confirmed Sabri's demise, mentioning a shot directly at his head.
Amjad Sabri was punished for being the country's finest qawwal, known for his soul-stirring renditions of mystic poetry (praising Rasool & AhlulBait). He was killed for being someone who enthralled music aficionados with his brand of spirituality, mysticism and ecstasy for years.
Deobandi extremist elements have no stomach for the praise of Rasool (SAWWS) & AhlulBait (AS). The same people join hands in 'Difa-e-Pakistan Council' patronized by the 'Establishment' who banned them earlier.
Militants mere existence after being banned, proclaims the mind-set that prevails in the Military and Civil institutions, as without their patronage no organization can exist.
'National Action Plan' became a joke when banned outfits came together under 'Difa-e-Pakistan Council'.
When connecting the dots, it can easily be established that State Patronized Militants killed Amjad Sabri for Praising Rasool (SAWWS) and AhlulBait (AS).