Pakistan
Day 24 Hunger strike: 24 Shia Organizations Announce of 'Long March' Against the Govt‏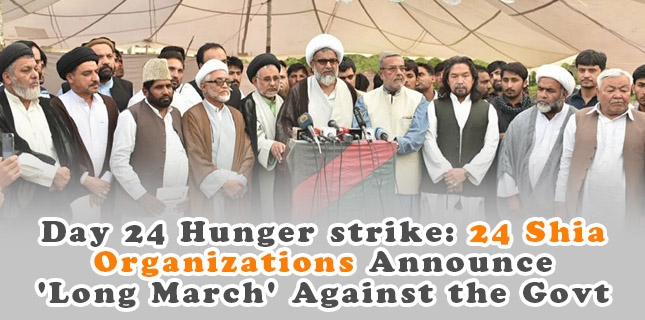 A 'United Front' has come forth due efforts of Majlis Wahdat ul Muslimeen Chief Allama Raja Nasir Abbas' Hunger Strike claiming to rally 'Long March' against the government with full force after Ramazan.
Hunger strike camp continues on the 24rd day with Allama Raja Nasir Abbas standing tall with his demands against the shia genocide and governments prejudice in Pakistan.
Over the few days, a number of Shia Organizations across Pakistan have come to pay tribute to the MWM's chief pledging allegiance to the cause.
In a recent development, 24 different Shia Organization from Karachi to Siachen met Allama Nasir in Islamabad on Saturday confirming him his support and condemning Nawaz regimes' arrogance and their patronage of banned outfits involved in Shia massacre. Realizing governments indifference to the hunger strike, it left the members no choice to rally united against the government.
The core issues and Allama's demands were addressed in the conference which continued for two hours. It was decided in the conference that governments ignorance and bias can only be answered with a united front, where not only these 24 organization will march against the inhumane behavior of the government but Sunni Ittehad Council, Pakistan Awami Tehreek and other Barailwi organization to join the movement. Sources suggest that de-seating the regime might also be on the agenda of the march.
The conference was attended by Imamia Students Organization, Shia Action Committee, Shia Conference Balochsitan, Imamia Council Hangu, Shia Shehriyan-e-Lahore, Shia Political Party Nobahar Shah, Jafria Supreme Council Azad Kashmir, Anjuman Tajiran-e-Quetta, Anjuman Dua-e-Zehra Islamabad, GB Youth, Anjuman Zulfiqar-e-Haideri Islamabad, Tahreek-e-al Qaim Rawalpindi, Markazi Tanzeem-e-Azadari, Shia Federation Pakistan and many more.