Pakistan
PPP Seconds MWM's Hunger Strike, Will Raise Demands in Senate and NA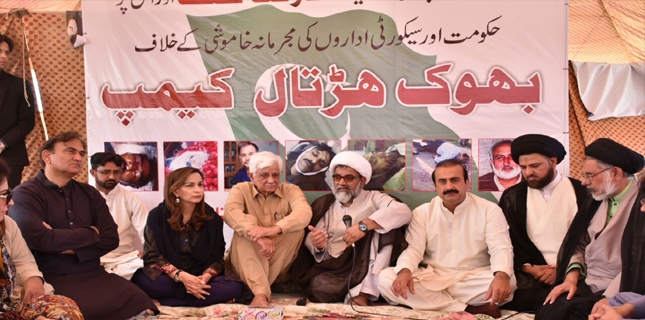 Pakistan Peoples' Party (PPP) Vice President Shireen Rehman on Friday met Majlis-e-Wahdat ul Muslimeen's Allama Raja Nasir Abbas during their Hunger strike which (today) enters its eight day.
The delegation was accompanied by prominent PPP leaders to include; Senator Taj Haider, Robina Ashraf, Sasui Palejo, Zamarud Khan and many more, welcomed by MWM's Allama Syed Hasan Zafar Naqvi, Political Secretary Asad Naqvi and rest.
Allama Raja Nasir addressing them iterated that the followers of Ahl ul Bait (Shiites of Pakistan), in the past, have resorted to all means protesting their genocide and atrocities; to no avail. It has been altogether 30 years that their demonstrations have gone in vain with the governments and institutions giving a deaf ear.
"We are being targeted by terrorists, was what the government told us." said Allama Nasir. But the recent incident of 'State Terrorism' at Parachinar when Frontier Constabulary (FC) killed innocent shiites celebrating their religious festivities; gave away a very different perspective of 'Terrorists in Pakistan'.
He said that MWM will not budge from their strike till their demands are met.
PPP Shireen Rehman and Senator Taj Haider seconded the cause and realized the demands to be just. They affirmed them their support and pledged to bring their voice to the forums of Senate and National Assembly. They assured that they stand with the oppressed Shiites of Pakistan.