Pakistan
Jamat-e-Islami and Dar-ul-ulom Deoband Declared "Kashmir is an Integral Part" of India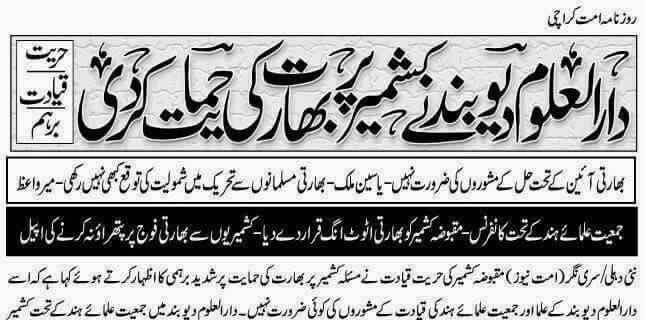 ShiiteNews: Dar-ul-ulom Deoband India , which is the center of all Deobandi Sect followers including from Pakistan, declared Indian-held occupied Kashmir as a part of India.
According to Deobandi Ummat Newspaper, well known Cleric of Dar-ul-Ulom Deoband said that Occupied Kashmir is an integral part of India. Reportedly, these views were expressed by senior clerics of Deoband in a Jamiat Ulema Hind Conference held in Deoband India where clerics also requested to Muslims in Kashmir that "do not resist" against India.
The Conference was also attended by Jamat-e-Islami Hind Secretary general Mujtaba Farooq. Conversely , Jamat-e-Islami Pakistan is claimed itself champion of Kashmir Jihad, but it is JI's hypocrisy and nothing else.
To read the complete text of this story follow Newspaper Image, but here important is that Jamia binoria , Darul-Uloom Of Mufti Taqi & Rafi Usmani, Maulana Fazalur Rehman, Maulana Samiul Haq and others deoband seminaries & Clerics have not given a single liner statement against this disputed anti Pakistan Statement of their Ideological center Deobandi Clerics.
On the other hand, security officials should be alert form terrorists who are linked with seminaries whose ideological centre is in Deoband, India.