Pakistan
Army assisting in South Punjab terror purge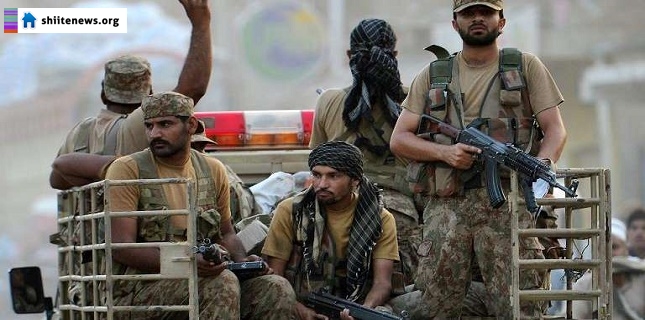 The military said on Wednesday that 'coordinated operations' targeting runaway terrorists have been ongoing in the impoverished southern Punjab region which has long been considered as home to some of the deadliest militant groups.
"Coordinated operations are under way against terrorists, hardened criminals, Fararis by law enforcement agencies, including Rangers, Punjab police and Counter-Terrorism Department, assisted by Pakistan Army in southern Punjab," the Inter Services Public Relations (ISPR) said in a brief statement.
The operations are targeting the terrorists who had fled different parts of the country as a result of successful operations to take refuge in the remote areas of Rohjan and Kache in Rahim Yar Khan, the statement added.
The military had launched a massive operation, codenamed Zarb-e-Azb, to purge North Waziristan Agency of local and foreign terrorists. Later intelligence-based operations (IBOs) were also launched in urban centres of the country as part of the offensive to dismantle 'sleeper cells' of terrorists.
This is the first time that a coordinated operation has been launched in South Punjab, which has long been considered as a breeding ground for sectarian extremists and their cohorts.
The confirmation of coordinated operation suggests a standoff between the civilian government and the security establishment on how to pursue a counterterror purge in Punjab is over now.
The federal government and the security establishment were at loggerheads over the requisition of the Rangers to carry out operation in Punjab. The federal and provincial governments insisted that police and CTD could alone tackle the problem of militancy in Punjab.
Provincial Law Minister Rana Sanaullah claimed late last month that there were no safe havens of terrorists or no-go areas in the province, though he conceded that IBOs were ongoing against terrorists, their facilitators and financiers.
The military leadership has been adamant that an all-out operation was necessary to destroy militant hideouts and their 'sleeper cells' in Punjab. Army chief General Raheel Sharif directed security forces to launch an operation in Punjab hours after a suicide bombing killed over 70 people, including 29 children, at Lahore's Gulshan-e-Iqbal park, on March 28.
But the federal government was unhappy with the army for launching the operation without taking it into confidence.
The apparent standoff compelled Chief Minister Shahbaz Sharif and Federal Interior Minister Chaudhry Nisar Ali Khan earlier this week to quietly travel to the military headquarters in Rawalpindi and meet Gen Raheel. This meeting, security officials said, helped 'bridge the gap' between the two sides.
The army chief earlier reportedly said no joint operation would be carried out in Punjab. But, a flurry of high-level exchanges between the two sides paved the way for coordinated operations by the civil and military law enforcement agencies.
However, it is yet not clear whether the government will give special policing powers to the Rangers in Punjab, which is at the heart of the controversy.