Pakistan
Army Chief admired agencies' role in locating sleeper cells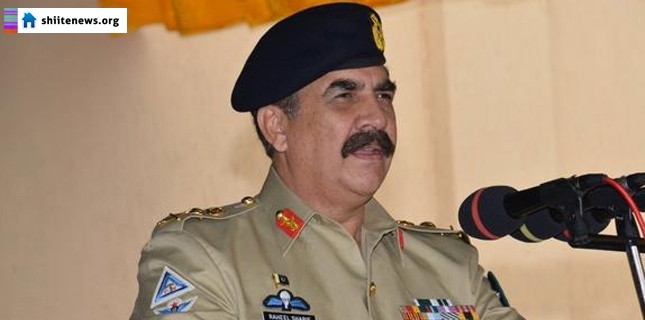 Army Chief admired agencies' role in locating sleeper cells
Shiite News: COAS General Raheel Sharif has once again made it clear that military operations would be continued till the complete elimination of extremism, terrorism and hideouts of terrorists from the country.
During the visit to North Waziristan General Raheel Sharif ordered to speed up the process of return of people who had to leave their houses due to the operation and said that army would remain in the area till the completion of this process. He also appreciated agencies' role in locating and arresting sleeper cells of terrorists in urban areas.
According to ISPR, General Raheel Sharif visited North Waziristan on Tuesday and spent the day with military personnel carrying out the operation and local tribal leaders. He also laid foundation of Younus Khan Sports Complex for youngsters in Meeranshah. Cricketer Younus Khan was also present at the moment.
Army Chief was also briefed by the formation commander regarding the ongoing operation Zarb e Azb, return of temporarily displace people, and army's development programs in the area.
General Raheel Sharif lauded security forces performance on clearing an area of 650 square kilometre during the last phase of operation and also expressed satisfaction over the progress of the operation's last phase in Shawal.
While appreciating the successes COAS reiterated the aim to continue operation till the complete eradication of extremism, terrorism and terrorists' hideouts form the country. He specifically praised the role of intelligence agencies in elimination of sleeper cells in urban areas of the country. While talking to soldiers army chief also appreciated their morale and sacrifices. He was also briefed with regard to rehabilitation work going on in the area and their effects on its social and economic situation.