Pakistan
Terrorists involved in Ashura incident should be tried in military courts: Allama Raja Nasir Abbas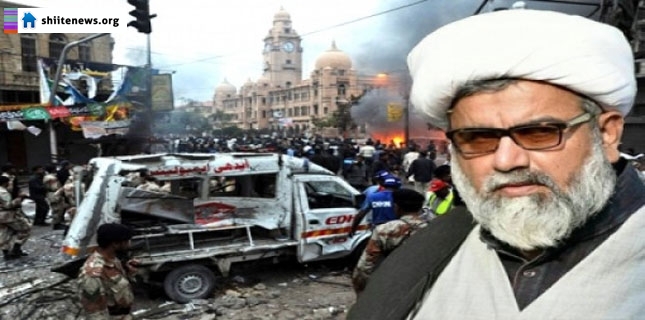 Terrorists involved in Ashura incident should be tried in military courts: Allama Raja Nasir Abbas
Shiite News: MWM Pakistan's central secretary general Allama Raja Nasir Abbas Jafri while expressing his reaction over JIT and media reports regarding the involvement of a political party in Ashura blast that took place in Karachi in 2009 said that conflicting reports of investigation departments with regard to the Ashura incident were making investigation process dubious.
In a statement issued from MWM Pakistan's central secretariat Allama Raja Nasir Abbas Jafri said that arrests of some terrorists of a banned religious organization were also showed in past for their involvement in the Ashura incident and recent reports of investigation departments were creating difficulties and doubts. He said "it is beyond understanding whether the arrests that were made earlier should be considered right or he recent JIT report is trusted". He also demanded that those militants involved in killing innocent people of Millat e Tashaii and against whim there are strong proofs, should be revealed. He demanded that terrorists involved in Ashura incident, whether religious or political, should be tried in military courts and severely punished.
He further said "no matter terrorists belong to a religious party or a political party, every person involved in terrorism should be tried in military courts so that the process of accountability could be followed without any pressure". Allama Raja Nasir demanded the government that all cases of terrorism, including Karachi's Ashura incident, Alamdar road's incident, Hazara town incident, Hayatabad incident, and Shikarpur incident, should be tried in military courts and militants involved in these acts and their facilitators should be severely punished.
"For establishing long lasting peace and to eliminate the menace of terrorism from the country it is necessary that such extremist and nefarious elements should be exterminated", he added.