Pakistan
Rana Sana blames TTP over in Khanzada's killing but hide ASWJ role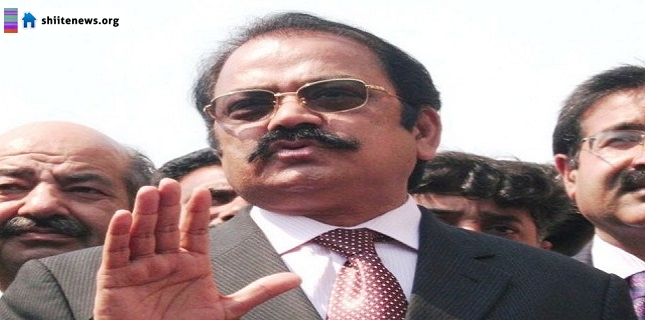 Controversial Punjab Law Minister Rana Sanaullah claimed on Thursday that the Tehreek-i-Taliban Pakistan's Aftab Group was involved in the assassination of retired Col Shuja Khanzada but hiding the role of his ally Notorious ASWJ (Sipah-e-Sahaba) over Shaheed Khanzada assassination.
Responding to a call attention notice in the Punjab Assembly, Rana Sanaullah said the perpetrators involved in the suicide attack on the residence of the home minister belonged to the TTP Aftab Group. "Some suspects have been arrested and soon the law-enforcement agencies will capture others," he said.
He said the Joint Investigation Team and agencies were investigating the matter. "It is a very sensitive matter and a banned organisation has also played a role in the attack. The motorcycle (number) used in the attack has been traced," Sanaullah said, assuring the House that all those involved in the attack would soon be arrested.
Sources said that "Khanzada was the only cabinet member in the Punjab Government who was vulnerable, since he was quite vocal about terrorists," said one of the officers. "The home minister wanted to get rid of religious extremism at all costs."
He said that as part of implementation on the National Action Plan (NAP) against terrorism, Khanzada also included names of over 4,621 militants in the Fourth Schedule of the Anti-Terrorism Act 1997, a legal tool that allows the government to catalogue all those involved in terrorism.
On the home minister's directives, law enforcers apprehended 817 'hardcore terrorists' who were once key players for Lashkar-e-Jhangvi (LeJ), Jaish-e-Muhammad, Sipah-e-Sahaba Pakistan presently known as ASWJ, Tehreek-e-Taliban Pakistan and up to four dozen other banned outfits, revealed a police officer involved in the operation. "Soon after this, as well as LeJ chief Malik Ishaq's killing in a police encounter, Khanzada has been receiving threats from banned outfits."
Majority of these terrorists outfits supported the Nawaz Government and RanaSana ullah in last elections and other political motives of the PML-N against their opponents and Shiite and Beralvi-Sunni sects in Punjab and rest of the country.
Some circles also questioned the involvement of internal people Of Punjab Government in the assassination of Shaheed Shuja Khanzada because number of PML-N Punjab leaders and the provincial ministers associated with Notorious ASWJ , LeJ, and Punjabi-Taliban which were involved in Khanzada assassination.