Pakistan
Colonel (retd) Sahheed Shuja Khanzada​: Military man and politician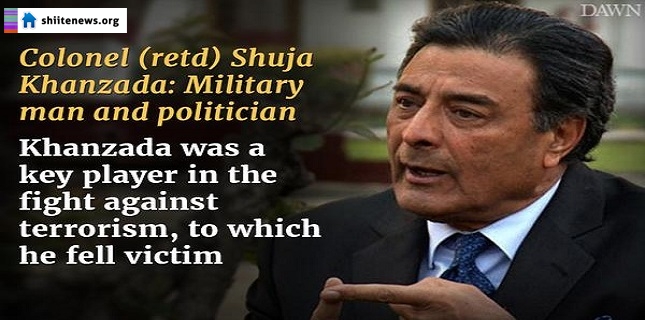 Martyrs Punjab home minister Colonel (retd) Shuja Khanzada, son of Yousaf Khanzada, hailed from Shadi Khan Village in Hazro near Attock.
Khanzada was born into a Pakhtun family belonging to the Yousufzai clan. His grandfather, Captain Ajab Khan had served as a member of the Indian Legislative Assembly. His uncle, late Captain (Retd) Taj Muhammad Khanzada had served as Member of the National/Provincial Assembly, Majlis-e-Shura.
After graduating from Islamia College Peshawar in 1966, Khanzada joined the Pakistan Army in 1967. He later took part in the 1971 war that led to the creation of Bangladesh.
In the military, Khanzada served as Instructor/Staff Appointment during 1974-78 and 1982-83. He also commanded the 13 Lancers Regiment from 1983-85 and was awarded the "Tamgha-e-Basalat" gallantry award in 1988. Khanzada was also among the first few soldiers to reach the Siachin Glacier in 1983.
He later moved on to serve as military attaché at the Pakistan embassy in Washington from 1992-94.
Following his retirement from the military, Khanzada entered politics and was elected as a member of the Punjab Assembly in 2002. He served as special adviser to the chief minister and also held a ministry portfolio.
He was then elected to the provincial assembly in the 2008 and 2013 elections. Currently, he was serving as the Punjab home minister and was a key player in the province's fight against terrorism, to which he fell victim.
He sacrificed his life in war against the Takfiri terrorists of Taliban , Lashkar-i-Jhangvi , AhleSunnat Wal Jamaat (ASWJ) and other banned outfits enjoyed the support of Indian RAW and others. Its the responsibility Of the Pakistani nation to continue his mission to clean Pakistan from RAW proxies and banned takfiris outfits terrorism and hatred policies for the sake of our next generations.