Pakistan
Shia muslims staged protest demonstration at Shahra e Faisal Malir against Shiite genocide.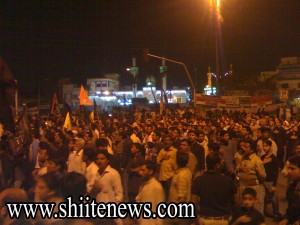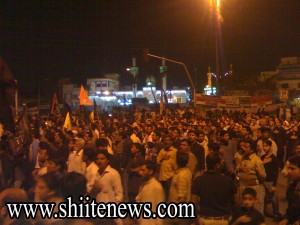 Shia muslims staged protest demonstration against the Shiite genocide in Karachi and blocked Shahra e Faisal road due to which National highway was blocked. Thousands of Shiites participated in the protest rally including children, women and infants.
According to the Shiite news correspondent from last consecutive three days protest demonstration are staged in various important areas of Karachi. The Protest rally against the genocide of Shia Muslims were  taken out from Nad-e-Ali chowk (Jaffar-e-Tayar) Malir and marched towards the main street of the city, where the marchers were blocked the main Shahra-e-Faisal road in which thousands of Shiite participated to condemn the twin blast held in Karachi on Arbaeen (Chehlum) Imam Hussain (AS) . Protestors were holding the flags of Labbaik ya Hussain (a.s) and Hezbollah and demanded the government to immediately take action against the terrorist involved in the blasts and stop the bloodshed of Shiites. They demanded the immediate release of innocent Shiites. Addressing the participants of protest rally at main Share-e-Faisal, the speakers warned the Government if they would not fulfill their demands than Shiites will take big step against the government and government will be responsible for whatever happens than. Government has become unsuccessful in facilitating mourners of Imam Hussain (a.s) with proper protection they added. Protestor blocked the shahra e Faisal for more than three hours during which they continued with azadari.