Pakistan
Amir Liaquat termed "Mushrik" for praising Imam Ali as "Maula-e-Kainat"‏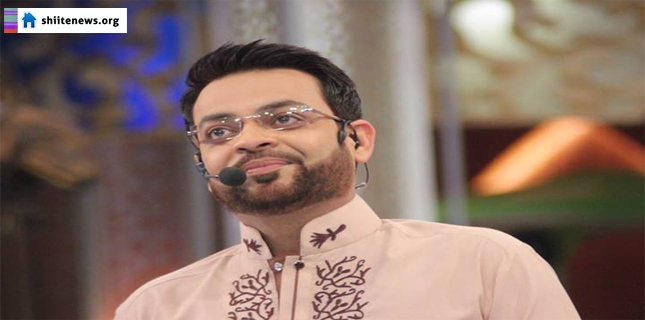 Amir Liaquat was proclaimed infidel by a Local Newspaper on Monday while commemorating the Anniversary of Imam Ali's Martyrdom on 21st Ramazan.
A Local Newpaper "Ummat" alleged that Amir Liaquat stands as an infidel and should ask forgiveness of Allah (Swt) for calling Imam Ali as "Maula-e-Kainat" during the special transmission on 21st Ramzan. "Ummat" brought about a number of religious decrees against Amir for praising Imam Ali during his program.
The program aired on Geo TV included prominent religious scholars as Allama Kokab Noorani, Muzaffar Kazmi and Allama Muhammad Ali Hussaini. In an answer to a question raised to a Ahle-sunnah scholar "why Imam Ali is addressed as Maula", the Scholar said, its doesn't bother anyone when we address Siddique-e-Akbar, Farooq-e-Azam, Usman-e-Ghani where AKBAR, AZAM and GHANI remain ALLAH (Swt) traits/names. So why? Maula is questioned with Ali's name. A hypocrite cannot consume Love for Ali and his name will bring dissent and objections to him only.
In another event, the same newspaper rejected Sahih ahadiths validating Ghadeer proclaiming them as Za'eef, though there remain close to seventy thousand narrators to the same hadiths.