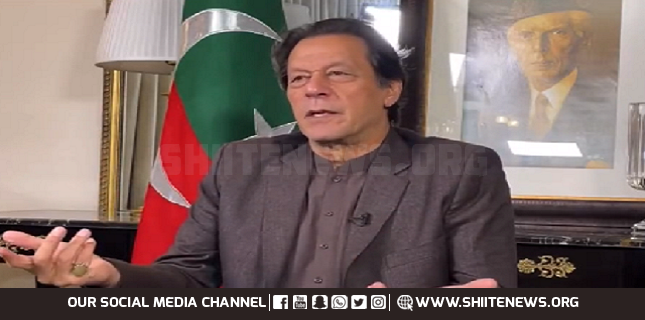 Pakistan Tehreek-e-Insaf (PTI) Chairman Imran Khan claimed on Friday that a new plan has been hatched for his assasination, and that Pakistan Peoples Party (PPP) co-Chairman Asif Ali Zardari is one of the key conspirators of this plot.
During a live telecast speech, the former prime minister accused former president Asif Zardari of paying money to a terrorist outfit to carry out the latest assasination attempt on his life.
"Now they have made a Plan C, and Asif Zardari is behind this. He has loads of corruption money, which he loots from the Sindh government and spends on winning elections. He has given money to a terrorist outfit and people from powerful agencies are facilitating him. This has been decided on three fronts and they will act soon," he said.
Imran Khan said that there were three more names along with Zardari who will be part of this new plot.
"I am telling you this because if something happens to me the nation should know the people who were behind this, so that the nation never forgives them," he added.
The former prime minister's latest claims come onths after he was wounded in a shooting at a rally in Wazirabad, part of a long march that he was leading to press for general elections. A number of other PTI leaders were also injured and a supporter killed in the November 3 attack.
A joint investigation team (JIT) was later formed by the Punjab provincial government to probe the attack on on the PTI chairman, while the federal government also formed a separate JIT to investigate the asssasinaton attempt.
Speaking during his address today, the PTI chairman said that, following his government's ouster in April, he came to know that an assassination attempt would be made against him and that it would be blamed on religious extremism.
"Some powerful people were involved in that [assassination attempt]. I came to know about the plot after our government was ousted. I made a video as well. There were four people involved. They ran an entire campaign against me. They almost succeeded, but Allah saved me," he added.
Talking about the impact of the Pakistani rupee devaluation, the former prime minister said that now the prices of petroleum products and gas would also increase, putting further burden on the common person.
"Gas prices will increase 46% now. It will impact Pakistan's growth rate. Farmers had spent 60% more money on urea alone due to inflation. Our industries are closing down and unemployment is increasing. Exports are on the decline," he said.
He said that Pakistan was growing at about 6 per cent during PTI's fourth year in power despite the coronavirus pandemic which was proven in the next economic survey of Pakistan. He predicted that Pakistan's growth would be in the negative this year.
"Just ask anyone from the textile sector how much loss they're bearing. During our tenure, there was shortage of labour in Faisalabad. Our large-scale manufacturing was increasing by 12%," he added.
The former premier said that the PTI government had collected taxes at a record level. However, he added that the current rulers had brought the economy to a point where national security was in danger.
"Remittances and exports are on the decline so we have to beg for dollars. They told Sri Lanka to reduce their army by 50%. Whoever will bail us out will give us conditions. Every Pakistani is worried about our national security today."
Imran said that those who were involved in the 'regime change' did not learn their lesson and Pakistan was still on the path of decline.
"Everyone will ask who is responsible for imposing these people on the nation. They are trying to destroy democracy. They want to take the country towards fascism. I saw Musharraf's martial law but never saw such fascist tactics. The way they're treating politicians is like they're treating Kulbhushan Yadav. These are our own people. They only want to spread fear," he said.
Imran warned that things would go out of control if the current situation persists.
"On one hand inflation is on the rise, and on the other people are getting unemployed. Instead of tackling the situation democratically, they're creating fear. When Raja Riaz is the opposition leader, what remains the importance of parliament?" he remarked.
Lashing out at the caretaker setup in Punjab, he said that PTI's worst opponents have been appointed at important positions.
"The entire nation is looking towards the judiciary today. The caretaker government is disrespecting democracy. I ask the judiciary to protect protect our fundamental rights," he added.