Pakistan
Deobandis named in most wanted terrorists list released by Punjab Govt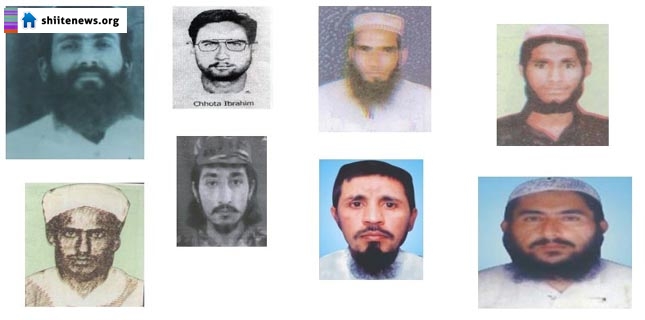 In what appeared to understate the threat from Deobandi terrorists of Wahhabis-allied Punjabi Taliban including proscribed ASWJ, Punjab government has released a list of only 109 terrorists and tried to equate the terrorists and the victims of terrorism by including some peaceful and law-abiding youths.
Due to alliance with proscribed Deobandi terrorist/militant outfit ASWJ/LeJ (Sipah-e-Sahaba), PMLN government in Punjab named a few Deobandi militants/terrorists.
DAWN newspaper reported on Thursday that Punjab government released a list of the 110 most wanted terrorists in the province on Wednesday.
Major findings from the list include:
Most of those listed are affiliated with local Deobandi militant organisations including the Tehreek-i-Taliban Pakistan (TTP) and its many factions, Lashkar-i-Jhangvi (LJ), Sipah-i-Sahaba Pakistan (SSP) and Jaish-i-Muhammad (JM). Only 14 individuals had no affiliation but this is also a ploy to hide their heinous crimes.
Unfortunately, Punjab government is trying to understate the Deobandi terrorism by including some Shia youths showing them as activists of TJP and SMP. SMP Chief Allama Ghulam Raza Naqvi was put behind the bars where he spent 18 years without any conviction from any Court of Law. TJP's head Allama Sajid Naqvi was confined by pro-Deobandi military dictator General Pervez Musharraf who had allowed Sipah-e-Sahaba (ASWJ-LeJ)'s chief Azam Tariq to contest election to the Parliament in 2002 and his casting vote brought General Musharraf's darling contestant to lead the PML government as Prime Minister of Pakistan.
Azam Tariq was allowed to contest despite the ban imposed by General Pervez Musharraf on his outfit for terrorism but he declared PMLN's Nawaz Sharif and Shahbaz Sharif and PPP's Benazir Bhutto disqualified for Elections 2002. Ironically, PMLN also joined hands with the Mush-ally ASWJ and formed electoral alliances with proscribed ASWJ/Sipah-e-Sahaba/LeJ
Details of top 20 notorious and most wanted Wahhabis-allied Deobandi terrorists are as:
1
Name: Mati-ur-Rehman
Other name(s): Samad, Ustaad Talha
Head money: Rs10,000,000
Major crime(s): Involved in suicide Attack on then Prime Minister of Pakistan Shaukat Aziz, Civil Lines Karachi bomb blast.
Affiliated with: Sipah-i-Sahaba/Lashkar-e-Jhangvi (SSP/LJ), Jaish-i-Muhammad (JM)
________________________________________
2
Name: Mansoor
Other name(s): Ibrahim, Chotta Ibrahim, Hasaan
Head money: Rs5,000,000
Major crime(s): Involved in suicide Attack on then President of Pakistan Pervez Musharraf
Affiliated with: Lashkar-e-Jhangvi (LJ), Tehreek-i-Taliban Pakistan (TTP)
________________________________________
3
Name: Qari Ehsan ul Haq
Other name(s): Basit, Ustaad Huzaifa
Head money: Rs5,000,000
Major crime(s): Involved in suicide Attack on then President of Pakistan Pervez Musharraf
Affiliated with: Lashkar-e-Jhangvi (LJ)
________________________________________
4
Name: Rana Muhammad Afzal
Other name(s): Fazal Ullah, Noor Khan
Head money: Rs5,000,000
Major crime(s): Attack on Saddar Kabirwala district, Khanewal, 2005
Affiliated with: Jaish-i-Muhammad (JM) [Masoor Azhar Group], Tehreek-i-Taliban Pakistan (TTP)
________________________________________
5
Name: Qari Obaidullah
Other name(s): Qari Imran, Hakeem Nasir, Abdul Rahim, Qari Sahib
Head money: Rs5,000,000
Major crime(s): Various attacks in Mianwali, Multan, DG Khan and Faisalabad
Affiliated with: Ameer Lashkar-i-Khurasan, Tehreek-i-Taliban Pakistan (TTP)
________________________________________
6
Name: Muhammad Hammad Akbar Khan
Other name(s): Ilyas Moavia
Head money: Rs2,000,000
Major crime(s): Involved in suicide attack on PTS Sargodha/PAF bus Sargodha in 2007
Affiliated with: Jaish-i-Muhammad (JM), Tehreek-i-Taliban Pakistan (TTP)
________________________________________
7
Name: Muhammad Tayyab
Other name(s): Baba Ji
Head money: Rs2,000,000
Major crime(s): Involved in suicide attack on PTS Sargodha/PAF bus Sargodha in 2007
Affiliated with: Jaish-i-Muhammad (JM)
________________________________________
8
Name: Faiz Muhammad
Other name(s): Kaskat, Qasim
Head money: Rs2,000,000
Major crime(s): Involved in suicide attack on Benazir Bhutto, Rawalpindi in 2007
Affiliated with: Tehreek-i-Taliban Pakistan (TTP), BM
________________________________________
9
Name: Ikram Ullah
Other name(s): None
Head money: Rs2,000,000
Major crime(s): Involved in suicide attack on Benazir Bhutto, Rawalpindi in 2007
Affiliated with: Tehreek-i-Taliban Pakistan (TTP), BM
________________________________________
10
Name: Qari Muhammad Yasin
Other name(s): Osama, Aslam, Hakeem, Sangarbar, Ustad Mushtaq, Sabir, Arif Khan
Head money: Rs2,000,000
Major crime(s): Various attacks in Rawalpindi, Attock and Lahore
Affiliated with: Sipah-i-Sahaba/Lashkar-e-Jhangvi (SSP/LJ)
________________________________________
11
Name: Noor-ul-Ameen
Other name(s): Khalid Pathan
Head money: Rs1,000,000
Major crime(s): Attack A-R Bazar, Rawalpindi in 2004
Affiliated with: Lashkar-e-Jhangvi (LJ)
________________________________________
12
Name: Abdul Hameed Watto
Other name(s): Watto, Abu Tariq
Head money: Rs1,000,000
Major crime(s): Involved in suicide attack on GPO Chowk and Naval War College Lahore
Affiliated with: Tehreek-i-Taliban Pakistan (TTP), BM
________________________________________
13
Name: Bilal
Other name(s): Abdul Rahim
Head money: Rs1,000,000
Major crime(s): Various attacks in Sargodha
Affiliated with: Jaish-i-Muhammad (JM)
________________________________________
14
Name: Muhammad Zubair
Other name(s): Mugheera, Farooq
Head money: Rs2,500,000
Major crime(s): Involved in ISI Qasim Bela, Multan
Affiliated with: Lashkar-e-Jhangvi (LJ)/Tehreek-i-Taliban Pakistan (TTP)
________________________________________
15
Name: Muhammad Majid
Other name(s): Abdul Majid
Head money: Rs500,000
Major crime(s): Attack in Rahim Yar Khan
Affiliated with: Lashkar-e-Jhangvi (LJ)
________________________________________
16
Name: Abdul Waqar
Other name(s): Waqar Azeem
Head money: Rs200,000
Major crime(s): Two attacks in Vehari
Affiliated with: Lashkar-e-Jhangvi (LJ)
________________________________________
17
Name: Ahmed
Other name(s): Shareef, Ayaz Punjabi
Head money: –
Major crime(s): Two attacks on Sakhi Sarwar district, DG Khan
Affiliated with: Tehreek-i-Taliban Pakistan (TTP)
________________________________________
18
Name: Zara Ali
Other name(s): Naeemullah
Head money: –
Major crime(s): Two attacks on Sakhi Sarwar district, DG Khan
Affiliated with: Tehreek-i-Taliban Pakistan (TTP)
________________________________________
19
Name: Ayub
Other name(s): Saifullah
Head money: –
Major crime(s): Two attacks on Sakhi Sarwar district, DG Khan
Affiliated with: Tehreek-i-Taliban Pakistan (TTP)
________________________________________
20
Name: Ijaz Ahmed
Other name(s): None
Head money: –
Major crime(s): Attack on Cantt, Multan
Affiliated with: Tehreek-i-Taliban Pakistan (TTP) [Qari Obaidullah Group]