Pakistan
1966-born Shireen Mazari arrested in a case registered in 1972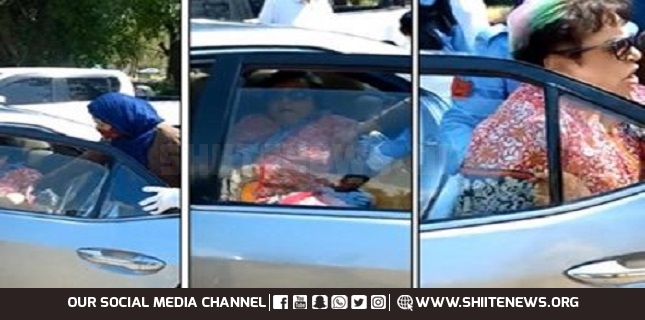 Former human rights minister and a senior leader of Pakistan Tehreek-e-Insaf (PTI), Dr Shireen Mazari was allegedly violently whisked away by police from her home in Islamabad on Saturday in a case apparently registered half a century ago.
According to details available with The Express Tribune, Mazari was arrested in a case that was registered when she was only six years old.
The former federal minister, who was born on April 26, 1966, was booked on a complaint registered against her father in 1972. The case was re-registered on April 12, 2022, on the complaint of Deputy Commissioner Rajanpur.The arrest saw condemnation from PTI as well as leaders from other political parties. #ShireenMazari trended on micro-blogging platform Twitter the entire day.
Former information minister Chaudhry Fawad Hussain said in tweet that those who were accused of corruption worth Rs16 billion were not arrested today but instead they were given two senior-most positions of the state, in a reference to Prime Minister Shehbaz Sharif and his son Punjab Chief Minister Hamza Shehbaz. On the other hand, Mazari was "kidnapped" in a case that was registered in 1972, he added.
Analyst Abuzar Salman Khan Niazi said that Mazari is being investigated and prosecuted for an offence allegedly committed 50 years ago.
"Fresh report on the alleged offence was prepared in April, 2022 after 50 years. Interestingly, she was 6 years old and in no position to commit the offence in 1972," he wrote on his Twitter handle.
PPP MNA Nafisa Shah also condemned Mazari's arrest, questioning who arrested her and why.
TV host and stand-up comedian Shafaat Ali, while condemning the incident, sarcastically said that he congratulates all stakeholders and institutions for registering a case in 1972 and arresting Mazari in 2022.
The Human Rights Commission of Pakistan (HRCP) said that it condemns the arrest and manhandling of senior PTI leader.
"Her arrest smacks of political victimisation, which has regrettably become an entrenched practice and is deplorable no matter which party is the preparator. Dr Mazari is entitled to due process and the incident must be investigated," it said in a statement.
The former ruling party has also announced staging protests against the arrest of senior PTI leader.