Pakistan
Long March of Shia Muslims turns into sit-in outside shrine of Pakistan founder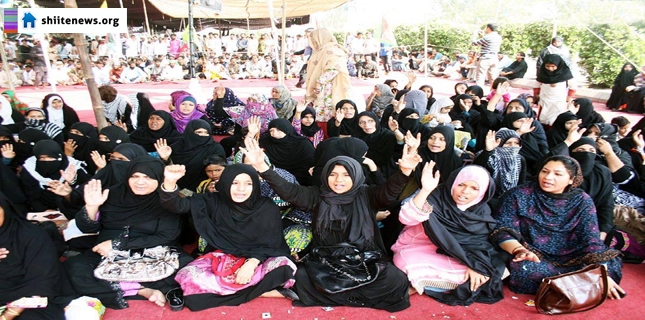 After historic warm welcome to Shia Long March at superhighway and Incholi, the heirs of martyrs of Shikarpur and their supporters reached main M.A. Jinnah Road where they began staging a sit-in in front of the mausoleum of Mohammad Ali Jinnah, founder of Pakistan.
The sit-in that began at the midnight between Tuesday and Wednesday continues till this report. Sindh Government has invited the Heirs Committee for talks at Chief Minister's CM House and progress of talks would be reported in news by Shiite News.
Karachi-based Shia Muslims of every area wanted to host the great heirs of Shia martyrs who sacrificed their lives while offering Friday prayers at Karbala Moalla Syed-ush-Shohada Mosque/Imam Bargah in Lakhi Dar area of Shikarpur.
Shia Muslims of Sadat Colony lodged complaints with the MWM officials that why the great family members of martyr Shia namazis were not asked to stay in Sadat Colony Incholi.
Women, men, children and elderly family members among the martyrs' heirs are not alone at Mohammad Ali Jinnah Road Karachi. Women and children of Karachi-based Shia Muslims are also sitting with them. Youth and elderly Shiites of Karachi are staging sit-in along with heirs of Shikarpur's martyrs.
They want arrest of nominated takfiris, capital punishment to the perpetrators and abettors of the suicide bombing inside Shia mosque during Friday prayers. They want all 14 demands to be met by the government.
Main road outside shrine of Pakistan's father of nation is reverberating with the slogans: Labbaik Ya Hussain (AS), Labbaik Ya Zainab (AS) and Labbaik Ya Mahdi (AS).