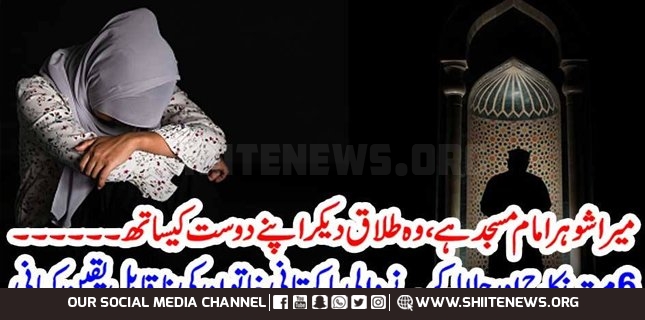 While talking in a private TV program, a woman named Shama said that her husband was the imam of the mosque and our marriage was arrange but my husband was an angry, quarrelsome and nationalist person therefore he divorced me and let to Halala 6 times.
Shiite News: Deobandi Maulvis are famous for their lust and sexual brutality in the name of religion all over the world. Abusing male children and adopting underage orphan from all the corners of country to grow up them as sex products for themselves as well as for ISIS and Saudi lords in Big Madarssas like Lal Masjid and others. In their lust they even commence contempt of Holy provision Halala given in Quranic rules. The same case is appeared recently in which a women named Shama in semi insane condition came into a private TV program and told her story of 6 times divorce and Halala by her husband who is Imam of Deobandi Masjid.
According to details, she said that my husband was the imam of the Masjid and our marriage was arranged. She added that my husband was an angry, quarrelsome and nationalist person and I was strange to his community. On this behalf, there were disputes in our family even over the minor things, under the pretext of which he divorced me after two and a half years of marriage. At that time, the I had a child.
The victim said that after the divorce, I returned to my parents' house and was anxious to have my child. Meanwhile, my husband sent me a message that he would not allow the child to be taken away and would not leave in peace. He also pressurized me to opt halala and for this he let me to marriage with his friend for one day, after which his friend divorced me and then I completed the 'iddah and once again tied in wedding nod with him.
"In this way, my husband divorced me six times and I had to go through the halala process six times," Shama said, eventually having 6 times of bitter experience she fed up with said practice and took refuge in the Sarem Burney Trust. At this occasion, the founder of Sarem Burney Trust was also present in TV Show, who said that Shama was mentally disturbed when she came to us. She took refuge with us in distress and now she wants to keep distance from her children only because of her husband's bad habit.
Sarem further said "we told the residents of the area about the misconduct of her husband, who expelled her husband from the post of Imam of their Masjid, and now he is leading prayers in a Masjid of another area."