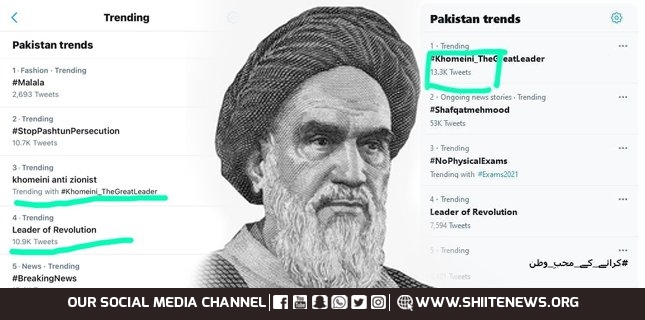 Shiite News: On the occasion of the 32nd anniversary, Pakistani social media users praised and homage to Ayatollah Ruhollah Khomeini, the Supreme Leader of the Islamic Revolution, the greatest opponent of the global imperialist powers and the idol-breaker of modern times, on the social networking site Twitter by setting 3 hashtags which became top trends.
To introduce Imam Khomeini's personality, hashtags with three different titles were used on Twitter in front of social media users around the world. Thousands of Pakistani social media users have posted thousands of Twitter messages with the hashtags #Khomeini_anti_zionist, #Leader_of_revolution, #Khomeini_TheGreatLeader with messages based on Imam's decrees, events, struggles against tyrants, services and biographies.
According to the details, Pakistan's social media users have paid homage to their beloved religious leader Imam Khomeini on the occasion of his 32nd anniversary. Thousands of Pakistani social media users, including Shia Sunnis and followers of all schools of thought, exchanged thousands of Twitter messages using the hashtag #Khomeini_TheGreatLeader. This hashtag stayed for a long time at the first position of Pakistan's top trend list. At the same time, the trends of two different topics #Khomeini_anti_zionist and #Leader_of_revolution are still in the top list of the panel.