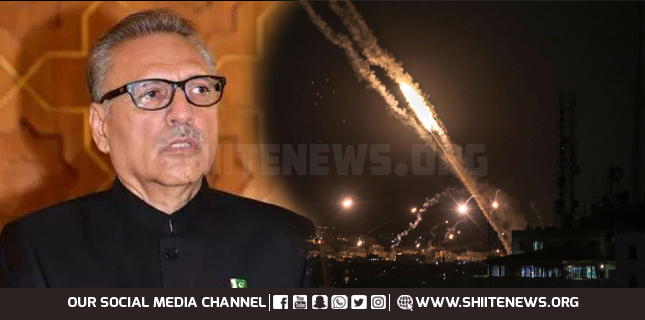 Shiite News: President of the Islamic Republic of Pakistan Dr. Arif Alvi has said that the Muslim Ummah is not capable of taking strong action against Israel, Hamas rocket attacks against the occupier are legitimate.
In an exclusive interview with a British news agency, the president admitted that " the Muslim world does not have the capacity to take action against Israel itself because we are weak."
Dr. Arif Alvi of the opinion that we all countries just condemned the Israeli aggression, Muslims themselves are weak in the world, so we have to listen to the voice of the strong.
The President further said that resistance against any occupier is permissible under international law, therefor I consider the rocket attacks on Israel by Hamas justified.
He added that the Muslim Ummah is just trying to establish opinion because Islamic countries are weak.
It should be noted that Israeli forces have been carrying out aerial bombardment on various residential areas of Palestine for the last ten days, as a result of which more than 200 Palestinians, including women and children, have been martyred.
Israeli airstrikes have caused several residential buildings to collapse, while planes have also targeted media offices.
Protests against Israeli atrocities continue around the world, with anti-Israel rallies even in various states of USA. Demonstrators called for tougher measures against Israeli aggression and expressed solidarity with the Palestinians.