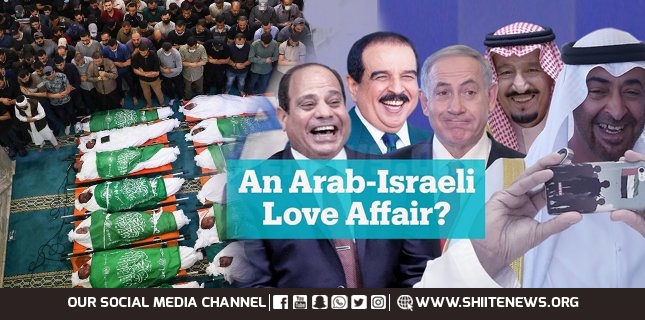 Shiite News: Nowadays, Unarmed Palestinian Muslims are facing unprecedented aggression from occupant Israeli forces. They have ruined Gaza by bombardment on urban population and on these tyrant attempts dignified Muslims are protesting worldwide but at the same time Turkey and Arab countries constantly giving priority to sale blood of innocent Palestinians. 41 countries Military Alliance under the command of former Army Chief of Pakistan General Raheel Sharif is nowhere to halt Israeli forces.
According to historical facts illegitimate Israeli state was formed by US and British governments forcefully. Since then, homeland is being narrowed gradually for native Palestinians. Those Palestinians, who have been living in Israel yet deprived of privileges like what Israeli have been enjoying. Neither they have home nor educational facilities. Now Palestinian are also being expelled from the area of Sheikh Jarrah for constriction of Jewish settlement there.
On the other hand some Muslims countries are strengthening their trade relations with Israel, in which Turkey is also included who had formed its relations with Israel in 1949 which were timely broke and restored but trade relations are continued. Last time in 2018, Turkey ended its diplomatic relations with Israel when America proposed to shift Israeli Capital from Tel Aviv to Jerusalem. Recent volume of Israel Turkey bilateral trade is more 6 billion US dollars and currently Turkey is 6th largest trade partner of Israel. Turkey is also willing to be custodian of Jerusalem like Saudi Arabia while this responsibility being held by Jorden at the moment. Arab and Israel diplomatic relations were restored in August 2020 which has turned politics of the region. After agreement between Israel and Arab countries tourist and aviation Industries have been expected a great lose.
In recent past there were no direct flight from UAE, Bahrain, Egypt and Sudan to Israel but now they have been started directly for Israel.
UAE and Israel wants to bring volume of bilateral trade up to 4 billion US dollars in first phase. Business chamber of Bahrain has also signed trade agreements with Israeli chamber. This country also facilitated trade agreements between Saudi Arab and Israel. Although direct relations between two countries could not establish due to pressure of Muslims countries but several Arab countries are joining with Israel on persuasion of said country. When in an attack of Israeli forces 21 Palestinians martyred and more 300 wounded, Egypt, Jordan and other Arab countries were engaged in trade and diplomatic relations with Israel. Israeli population is 9.2 million while Islam is second largest religion of the world with more than 2 billion followers, despite of this strength Muslim countries especially Arab Nations are forced to ignore aggression against Palestinians and keep continue relations with Israel. Is this not sad back of Muslim Ummah, why a tiny illegitimate state Israel has made all countries senseless and letting them dance on its finger tips.
Saudi Arabia formed military Alliance of 41 Islamic countries under the command of former Army Chief of Pakistan General Raheel Sharif just to kill Muslims of Yemen and save it, but said state with its allies are silent on Israeli violence against innocent Palestinians. Is this not a senselessness and timidity not to use power against injustice? Because of said senselessness future of people of Palestine and Kashmir are at stake but no one is daring to end trade relations with India and Israel.