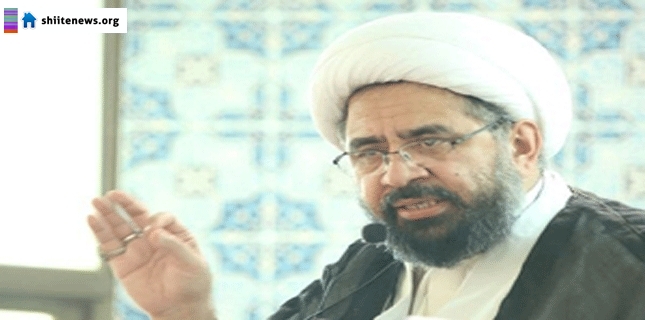 Son of Allama Amin Shaheedi tortured during hours long detention in Islamabad capital city.
Mustafa Shaheedi, elder son of prominent Shia Islamic scholar, was returning home.
Son of Allama Amin Shaheedi tortured during hours long detention
According to Allama Amin Shaheedi, the captors sought to punish him for supporting families of victims of enforced disappearance.
He said that the captors conducted questioning his son while torturing him during detention.
He further said that the torture, questioning and detention lasted for four hours.
However, senior Shia Islamic cleric Allama Amin Shaheedi vowed to continue to raise voice against violation of the constitutionally-guaranteed inalienable rights.
He slammed the captors over enforced disappearance of patriot Shia Muslims.
Legally speaking, he suggested that they would have produced the victims to courts of law if the captors had any charge against them.
Moreover, he made clear that Shia Muslim citizens know very well how to defend Pakistan and how to defend their Shia Islamic ideology.
Meanwhile, families of the victims are protesting against enforced disappearance of their bread earners in Karachi.
They are sitting outside mausoleum of founder of Pakistan Mohammad Ali Jinnah to register protest.
Unfortunately, none from the security establishment has come forward to ensure end to end enforced disappearance of loyal sons of Pakistan.
Instead, a state security agency has subjected another notable to enforced disappearance in Sahiwal Sargodha.
The media also covered wailing mothers, sisters and wives and minor children of many victims of enforced disappearance.
Protesting families slammed the perpetrators of enforced disappearance and accused them of committing their collective economic genocide.
Moreover, they said that on the one hand, enforced disappearance amounts to economic genocide and on the other it amounts to collective character assassination.
They lamented the unethical, immoral, unlawful and unconstitutional, biased and discriminatory policy of power that be against Shia Muslims.
Meanwhile, Shia Muslims held sit in across Pakistan against enforced disappearance of loyal sons of Pakistan.
They expressed solidarity with the victims and their families against the enforced disappearance.