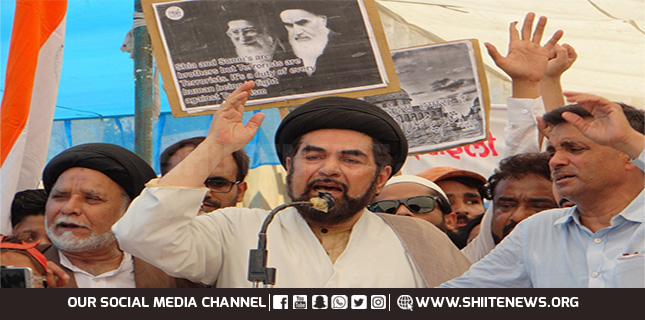 Allama Kalbe Jawad announces rally to protest against Waseem Rizvi, the blasphemer.
General Secretary of Majlis-e-Ulema-e-Hind Allama Kalbe Jawad condemned Waseem Rizvi's blasphemous anti-Quran petition.
Allama Kalbe Jawad announces rally to protest against Waseem Rizvi
Furthermore, he demanded immediate arrest of Waseem Rizvi for his false claim against the Holy Quran.
He announced huge protest gathering on Sunday.
Shia Muslims across the world said they feel hurt due to Indian citizen Waseem Rizvi's anti-Shia viewpoint against Quran.
Pakistani Shia Muslims also thank Allama Kalbe Jawad for instant and appropriate reaction to the anti-Shia stance of Waseem Rizvi.
Meanwhile, Allama Kalbe Jawad further said that Waseem Rizvi don't belong to Shia sect.
In a report published three years ago in Indian daily, eminent Shia Islamic cleric had announced Waseem Rizvi is not a Shia. Then, he had devoted a piece of land to temple. But Shia Islamic jurisprudent had rejected the allocation of Islamic waqf land for temple.
However, Allama Kalbe Jawad recalled that Waseem Rizvi had already wished to become sweeper of (Hindu) temple.
Moreover, he said Waseem Rizvi wanted to avoid arrest in cases; therefore, he created this controversy against Holy Quran.
But Allama Kalbe Jawad demanded Indian government to arrest Waseem Rizvi under National Security Act because his sacrilegious petition has enraged the entire Muslim Ummah, including Shia Muslims.
According to Shia Islamic creed, Allah (God) guarantees safeguarding (or protection of) Holy Quran.
Sunni and Shia Muslims around the world recite this same Quran and they have unwavering faith in all verses of this very present-day Quran.