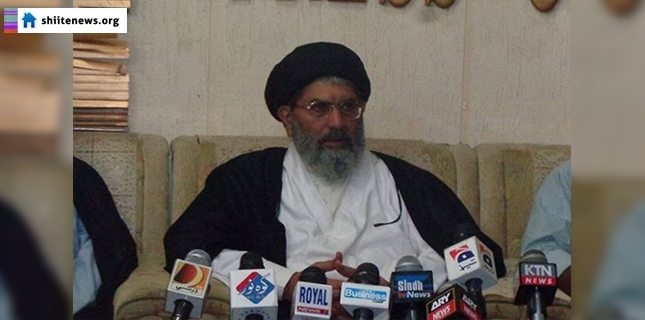 President Biden must reverse US sanctions on Imam Reza Shrine related organizations and staff.
Veteran scholar and founder leader of Shia Ulma Council Pakistan Allama Syed Sajid Ali Naqvi made this demand.
President Biden must reverse US sanctions on Imam Reza Shrine
In a statement, he reminded President Joseph Biden that his predecessor-led ex-US administration had imposed unlawful and unethical sanctions.
He said that Trump administration had imposed sanctions on globally-respected and recognized educational and charity bodies.
He condemned U.S. sanctions on Astan-e-Quds-e-Razavi (Imam Reza Shrine) and its custodian Hujjatul Islam Marvi.
Allama Sajid Naqvi was referring to the organizations linked with the holy shrine of Imam Reza (AS).
He further said that when President Joe Biden began reversing Trump era decisions, he should also nullify the aforesaid sanctions.
Unfortunately, Trump admin also imposed sanctions on Jamiatul Mustafa al Alamia, the international university based in Iran with virtual network around the world.
Earlier, ISO CP condemned US sanctions on holy shrine of Imam Reza (AS), the 8th infallible Imam from the descendants of Prophet Mohammad (PBUH).
Imamia Students Organization Pakistan president Arif Hussain Aljani termed it an attack on Islam and Muslims around the world.
While talking to the ISO officials in Lahore, he called it the worst sort of United States' state sponsored terrorism against Islam.
Furthermore, he also condemned EU sanctions and said that the U.S.-led Western bloc remains engaged in war against Islam.
Arif Aljani urged the United States and its allies they have to apologize over anti-Islam policy and withdraw all such nefarious moves.