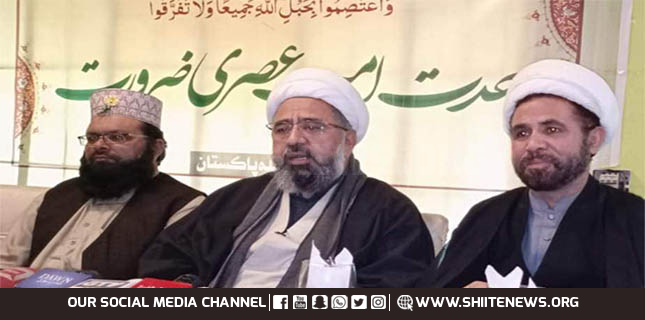 Allama Amin Shaheedi says US govt dividing Muslims on sectarian lines and ethnic lines.
Ummat-e-Wahida Pakistan leader expressed these views, while addressing a press conference in Garh Maharaja.
During the visit, he also met Shahzada Ali Zulqarnain at his house.
Allama Amin Shaheedi says US govt dividing Muslims on sectarian lines
Eminent Shia Islamic scholar spoke on challenges which Muslim Ummah is facing with presently.
He said that Pakistan is also facing with the same challenges which the other Muslim countries are facing with.
Furthermore, he said that U.S.-led Western bloc is fanning division among Muslim countries to sell their weapons.
He named Iraq, Syria and Yemen as some examples of the Western-instigated conflicts.
However, he also held UK (Britain), France and Germany together with the U.S. responsible for ongoing conflicts in Muslim world.
He said that aforesaid countries are utilizing their energies trying to occupy and grab the resources of Muslim countries.
Meanwhile, Allama Shaheedi conducted a three-day visit of Toba Tek Singh on an invitation from Dua Committee.
He addressed mourning majalis in connection with Ayyam-e-Fatimiyyah and also attended their monthly Dua-e-Kumail prayers.
Moreover, he also addressed a seminar on Unity of Ummah and requirements of the time.
Allama Shaheedi stressed the need for strengthening unity of Ummah. Specially, he underlined it an order of God.
In this regard, he also referred to Quranic verses and statements of Prophet Hazrat Mohammad (PBUH).