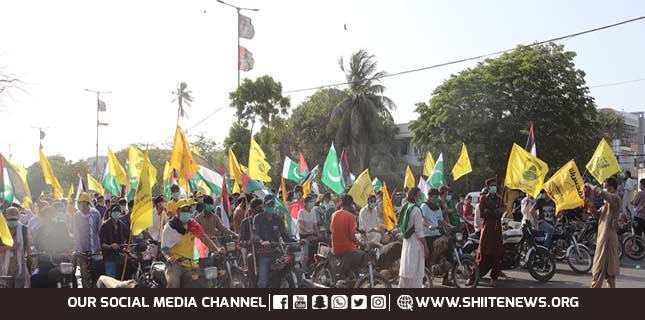 Quds Day motorbike rally held in Karachi to mark solidarity with Palestinians.
Participants riding motorcycles and some in cars reached mausoleum of funder of Pakistan Mohammad Ali Jinnah on Friday.
Quds Day motorbike rally
They were carrying Palestine national flag. They were also raising slogans in support of legitimate demand for sovereign and independent Palestine state with al-Quds (Jerusalem) as its capital.
Allama Sadiq Raza Taqvi and Imamia Students Organisation (ISO) Pakistan general secretary Ali Owais and other leader spoke on the occasion.
They condemned Israeli occupation over the sacred land of Palestine and al Quds (Jerusalem).
Furthermore, they slammed international community and particularly OIC for their failure in holding Israel accountable for crimes against humanity.
They predicted establishment of sovereign and independent nation-state with al-Quds (Jerusalem) as its capital shortly.
Furthermore, they also expressed their support for legitimate demand of Palestinians for right of return of the Palestinians whom Zionist terror groups had expelled from their abode.
The speakers also lauded the role of Imam Khomeini and Imam Khamenei in highlighting the issue of Palestine.