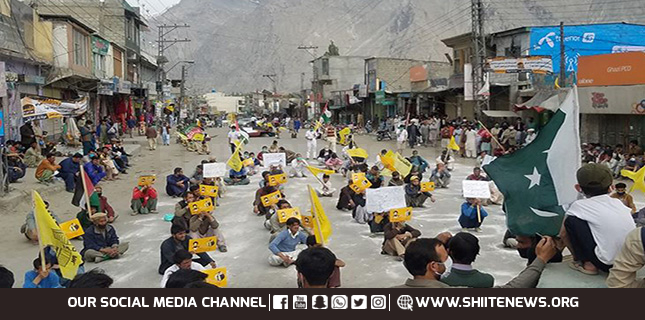 International Quds Day observed across Pakistan to support Palestinians on Friday.
While ensuring social distancing, rallies held across Pakistan under the aegis of Majlis-e-Wahdat-e-Muslimeen (MWM).
International Quds Day observed
Other organisations such as Tehreek Azadi Quds also held programmes while acting upon SOPs.
People joined Quds Day rallies and demos while acting upon SOPs for religious gatherings in Karachi, Lahore, Quetta, Peshawar, Islamabad, Gilgit Baltistan and Azad Kashmir.
They expressed solidarity with oppressed Palestinians, Kashmiris, Yemenis and other downtrodden nations on the Quds Day.
MWM Pakistan's, its provincial and district chapters leaders led the International Quds Day rallies.
In Karachi, main Quds Rally held outside Jamey Masjid Noor-e-Eeman after Friday prayers.
While maintaining necessary social distance under SOPs, the demonstrators were carrying banners and lifting placards. Some were fluttering Palestine flag.
The banners and placards inscribed with slogans demanding inalienable rights of Palestinians and Kashmiris, including their freedom.
Quds Rally's participants support Palestinians' demand for state of Palestine in the entire pre-1948 territory of Palestine.
Earlier Pakistanis announced to observe International Quds Day today to express solidarity with oppressed Palestinians and particularly of occupied Jerusalem.
In this regard, Majlis-e-Wahdat-e-Muslimeen, Tehreek Azadi Quds, Shia Ulema Council and Imamia Students Organisation have announced events.
Milli Yakjehti Council, JSO, ASO, AIAT and other Shia and Sunni organistations also have made similar announcements.
Earlier, MWM have held al Quds Conference in many cities. ASO held online conferences.
Similarly, ISO Pakistan also held virtual conferences to highlight the issue of Palestine.
Notably, Palestine Foundation (PLF) Pakistan leaders also addressed press conferences.