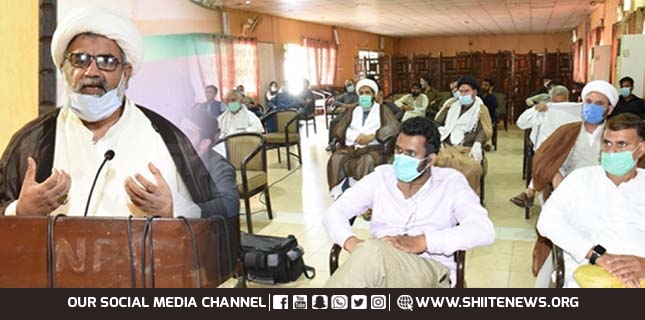 Allama Raja Nasir calls Israel the weakest state strategically while her era of success has come to an end.
Majlis-e-Wahdat-e-Muslimeen (MWM) Pakistan secretary general Allama Raja Nasir Abbas Jafari said this, while addressing al Quds Conference in Islamabad.
Allama Raja Nasir calls Israel
The Quds conference held under the aegis of MWM to highlight the Palestine issue ahead of International Quds Day.
MWM leader said strategically Israel has become the weakest state while she cannot succeed anymore.
He said that Muslim Ummah would never abandon Palestine and would never leave Palestinians alone.
However, the so-called Muslim regimes who betrayed Palestinians have nothing to do with the Quds and Palestine. He said Palestine has become a yardstick to identify who supports oppressed and who stands with oppressors.
Allama Raja Nasir predicted failure of so-called deal of the century which US President Trump formally unveiled in late January 2020.
He said martyrdom of General Qassem Soleimani revivified Palestinian resistance.
He said globally balance of power is changing in favour of Asia which imperialist powers see as threat.
MWM leader sees link between Palestine and Kashmir issues as he expressed these views during his speech in Multan.
Tehreek-e-Azadi Al Quds has set up a camp at Chowk Ghanta Ghar to create awareness about Palestine issue ahead of International Quds Day.
Majlis-e-Wahdat-e-Muslimeen leader Allama Iqtidar Naqvi and Imamia Students Organisation (ISO) also spend time at the camp.
The organizers also displayed the portraits of oppressed Palestinian children at the camp.
While speaking on the occasion, Allama Syed Iqtidar said the issue of Palestine and Kashmir are interlinked.