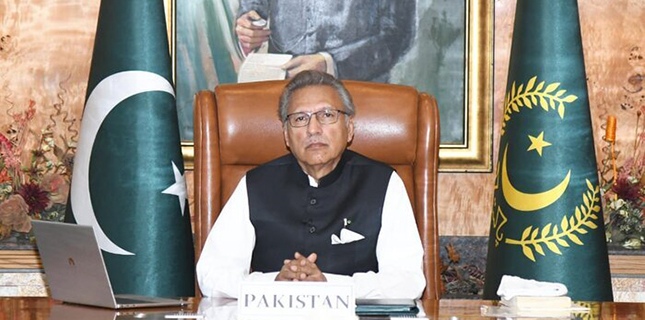 Pakistan calls for practical action to enforce cessation of all armed conflicts during Non-Aligned Movement (NAM) virtual summit which held through video link.
President Dr Arif Alvi addressed the NAM through video link which Azerbaijan convened. The NAM comprising of over 120 members is the biggest global forum after the United Nations.
Pakistan calls for practical action
The President announced the country's readiness to support the Non-Aligned Movement (NAM) member states in their fight against Covid-19.
However, he also floated the idea of global ceasefire. He emphasised the need for practical action to enforce global truce and cessation of all skirmishes and the armed conflicts.
Dr Arif Alvi further proposed to transform Covid-19 pandemic into an opportunity to create more equitable world order through joint efforts.
He shared the wide-ranging measures which Pakistan took under robust institutional mechanism to mitigate adverse impacts of Coronavirus.
Furthermore, he said Prime Minister Imran Khan announced massive relief package worth $ 8 billion for the deserving families whom the Coronavirus affected adversely.
President Alvi urged the developed countries to extend financial relief to the developing countries so that they could manage the consequences in the wake of Covid-19.
He also urged the world countries to take urgent initiatives for debt relief, discourage intolerance and discrimination, and provide equal health excess to all people.
Notably, President of Pakistan underlined: "Our efforts to handle Covid-19 should stay clear of politicization and pursuit of narrow agenda."