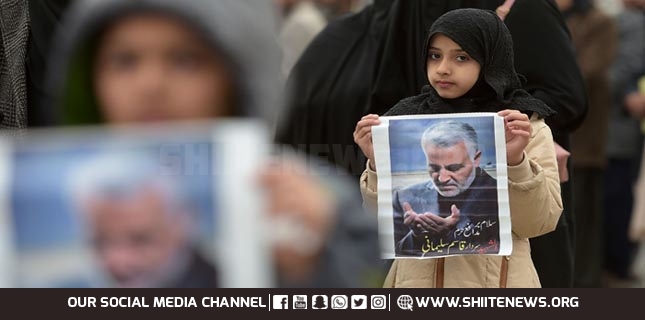 120 veteran scholars and mashaikh demand govt to join anti US bloc of Muslims.
In this regard prominent muftis, senior scholars and custodians of shrines issued a joint statement after a meeting.
Specially, they demanded that Pakistan government must oppose US bloc and its terrorism.
The eminent Muslim scholars belonging to various schools of thought met under the aegis of Ummat-e-Wahida Pakistan.
They strongly condemned US and Israel for Baghdad airstrikes.
120 veteran scholars and mashaikh
They said US with the complicity of Israel assassinated counterterrorist specialist and Quds Force head Haj Qassem Soleimani and Iraqi PMU commander Abdu Mahdi Mohandis.
Furthermore, they also highlighted illegality and immorality of the US airstrikes near Baghdad airport.
However, they noted that departure of Haj Qassem and Abu Mahdi Mohandis and their comrades from temporal world saddened the entire Islamic world.
Moreover, they lauded the role of Haj Qassem for his leading role in strengthening unity of Muslims and oppressed nations.
The scholars and mashaikh further slammed the anti-Islam US-led bloc for creating takfiri terror outfits such as Daesh.
Rallies in Pakistan condemn assassinatons of Soleimani and Mohandis.
The assassinations of Haj Qassem Soleimani of Iran and Mohandis Abu Mahdi of Iraq angered the entire Islamic Arab world.
Pakistanis also joined the worldwide protest against unlawful strikes.
Hundreds of thousands of people expressed their adoration for Quds Force commander Haj Qassem Soleimani and Mohandis Abu Mahdi.
Rallies in Pakistan condemn
From Karachi to Islamabad, Pakistanis expressed solidarity with Iraq and Iran over the brutal ilegal state-sponsored US terrorism.
Specially, the mourners in Pakistan condemned the Baghdad airstrikes, saying that United States had killed Pakistan Army soldiers in similar unlawful strikes, including Salala Tragedy.