Pakistan
Shiites stage rallies to protest against Shia genocide on MWM's Protest Day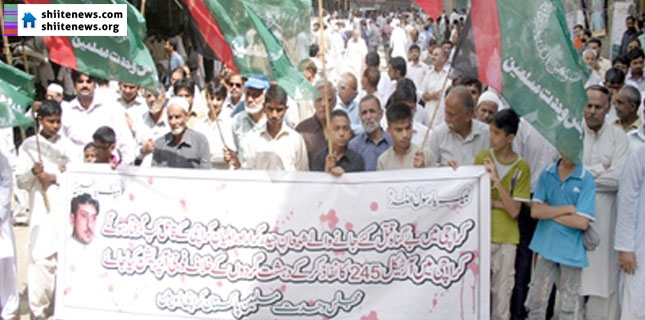 Shia Muslims stage rallies and demonstration in all over Sindh including Karachi to denounce the government for unabated Shia genocide in Pakistan on Friday that was observed as a Protest Day on a call from Majlis-e-Wahdat-e-Muslimeen's leadership.
Main rally was staged in Kharadar where Shia supporters of the MWM gathered outside Khoja Isna Ashari Masjid chanting slogans of Labbaik Ya Hussain (AS). They were also carrying banners and placards which were inscribed with their demand that government must stop Shia genocide by hanging the takfiri nasbi terrorists publicly. They were also demanding military operation to eliminate all the takfiri terrorists.
Allama Baqar Zaidi, Maulana Ali Anwar Jafari, Maulana Ali Afzaal Rizvi, Ali Hussain Naqvi, Mubashir Hassan, and other officials of MWM spoke to the protestors. They condemned the murder of Zakir-e-Ahl-e-Bait (AS) Ali Akbar Kumaili and other Shiites in Karachi and other areas of Pakistan.
They also expressed their condolence with Mufti Naeem saying that enemies tried to create gulf between us by assassinating Mr. Kumaili and Maulana Masood Baig. They vowed that Shia-Sunni unity would not be shaken by such nefarious plots. The protestors were raising slogans of Long Live Sunni-Shia unity.
MWM officials said that federal and provincial governments must stop Shia genocide and killing of other innocent people. They urged that military operation should be launched to liquidate all takfiri terrorists and their affiliates. They also demanded release of all detained workers of the MWM who were held in Islamabad raid by police and rangers.
In Karachi, demonstrations were staged outside Shia mosques in Malir Ice Depot area, Abbas Town, North Karachi, Incholi, Sadat Colony Drigh Road, and other areas. Similar protest was staged in Hyderabad, Tando Mohammad Khan, Badin, Matli, Nawabshah, Dadu, Larkana, Khairpur, Sukkur, Shikarpur, Jacobabad and other districts of Sindh province.