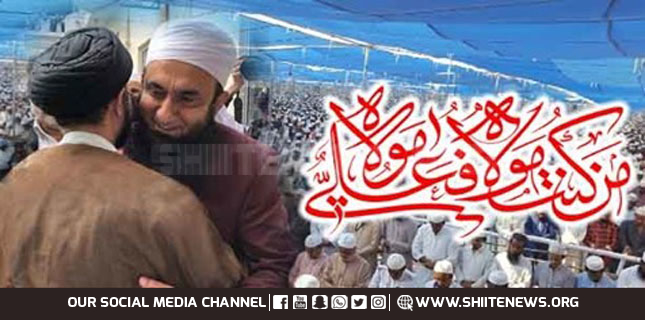 Tableeghi Jamaat targets cleric Tariq Jameel for remarks on Maula Ali (AS) that irked Deobandi preaching body.
The cleric Tariq Jameel has emerged as the most popular Deobandi religious speaker all over Pakistan.
Tableeghi Jamaat targets cleric Tariq Jameel
For quite some time, he has been narrating the hadees (hadiths) of Prophet Mohammad (PBUH). Particularly, he has begun highlighting distinguished prominence of Ahle Bayt of Prophet of Islam and Humanity.
Many irked due to eulogy of Ahle Bayt
Specially, Molvi Tariq Jameel cited Ghadeer sermon of Hazrat Mohammad (PBUH) regarding Wilayat. He paid homage and tribute to Maula Ali (AS) and acknowledged that Maula means leader and guardian.
Due to his citation of Hadees-e-Ghadeer and praise for Maula Ali, a particular biased group has turned against him.
Therefore, that group got him sidelined at the Tableeghi Jamaat congregation in Raiwind Lahore.
Tableeghi Jamaat disappoints Muslims
Unfortunately, the Deobandi preaching body made others to feel that they don't trust their veteran comrade cleric Tariq Jameel.
Moreover, the Jamaat's acrimonious policy for those eulogise Ahle Bayt of Prophet (PBUH), disappointed common man in Pakistan. Because, ordinary Muslims revere and adore Ahle Bayt (AS) much.
Tariq Jameel enjoys good relations with others
Factually, Tariq Jameel has enjoyed good relations with Shia Muslims. Particularly, his meetings with Allama Rahat Hussaini, Allama Javad Naqvi and others show his good relations.