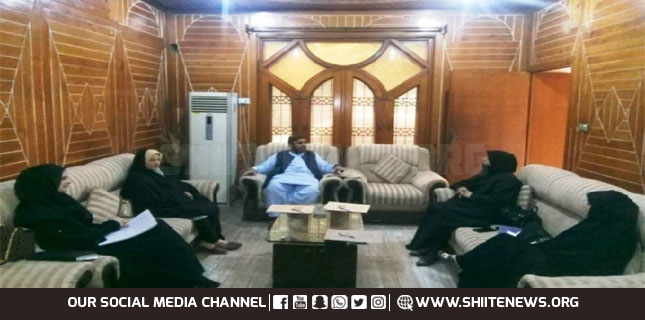 MWM women wing leaders meet Asad Abbas Naqvi to give suggestions on Wahdat Conference. The Shia Islamic party is organizing the Islamic unity conference on November 17 in Lahore.
MWM women wing leaders meet
The party's Lahore chapter leader Hina Taqvi, Uzma Naqvi, Ms Humera and Nageen Rizvi called on him.
Furthermore, they apprised him of their suggestions to make the Muslim unity programme successful.
Notably, Shia Islamic party MWM hosts Wahdat Conference in the holy month of Rabiul Awwal to celebrate birth anniversary of Prophet Mohammad (PBUH).
Backgrounder
However, Islamic unity remains the objective of MWM's Wahdat Conference whether thet organise it in any month.
Earlier this year, Sunni Shia politicians largely attend Islamic Unity Conference of Majlis-e-Wahdat-e-Muslimeen in Karachi.
Allama Raja Nasir enlightened the participants through his keynote address.
Sunni politicians, scholars at MWM Conference
Those Sunnis spoke included: Parliamentary Secretary for Religious Affairs and a leader of PTI Aftab Jahangir, Jamaat-e-Islami leader Merajul Huda Siddiqui. Tehreek-e-Minhajul Quran leader Allama Aftab Azhar, Milli Yakjehti Council Karachi president and a leader of JUP-Noorani Allama Qazi Ahmed Noorani. Pakistan Awami Tehreek leader Zafar Iqbal Qadri also spoke.
Shia scholars and notables also spoke
Besides, senior scholar Allama Mirza Yousuf Hussain, Jafaria Alliance leader Shabbar Raza, Majlis-e-Zakireen-e-Imamia' Allama Nisar Qalandari also spoke.
MWM leader exposes enemies' plots
Most importantly, MWM secretary leader Allama Raja Nasir Abbas Jafari spoke at length on current issues of Muslim world.
'US-Zionists-allies invented ISIS'
He cited that the US administration, Zionist regime of Israel and their allies invented and imposed terror outfits such as Daesh (IS).
Furthermore, he lamented that Muslims prefer sitting together under secular platform. But, they remain shy of unity under religious parties.
'IMF-World Bank controls Pakistan'
Moreover, Allama Raja Nasir said that IMF and World Bank have their nominees appointed on key posts.
He said enemies divided Pakistani nation on sectarian and ethnic lines. He censured those hampering enforcement of rule of law in Pakistan.
'Government release Shia from enforced disappearance'
Meanwhile, MWM leader said that Shia mothers and sisters were sitting outside Presidential camp office in Karachi. However, nobody came to address their grievances.
Finally, he also demanded that government must order release of innocent Shia Muslims from enforced disappearance.
More from Shiite News 
(sunni shia islamic unity mwm conference)
Shia community a victim of systematic marginalisation in Pakistan
MWM Chief Allama Raja Nasir Abbas announced hunger strike till Justice
Sunni-Shia unity witnessed at MWM's Iftar party in Lahore
All-Party Conference vows Sunni-Shia unity following teaching of Imam Hussain (AS)
MWM Chief says US embassy hired outlawed terrorists to sabotage Shia Sunni unity
MWM invites PTI leader Ejaz Chaudhry to Islamic Unity Conference