Middle East
Syrian ground and air forces destroyed terrorists centers in Hama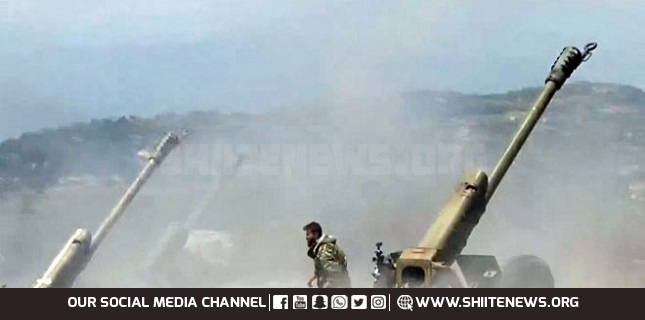 The Syrian Army's ground and air forces pounded and destroyed the terrorists' military positions and centers in Northern Hama and Southern Idlib in response to militants' attacks on safe zones in Northern Syria.
The terrorists of Tahrir al-Sham al-Hay'at (the Levant Liberation Board or the Al-Nusra Front) and Turkistani Party stationed in Southern Idlib launched rocket attacks on residential areas and military points of the Syrian Army in the towns of Jourin and al-Reyhanieh in Sahl al-Ghab region in Northwestern Hama.
Meantime, the Syrian Army's artillery and missile units heavily pounded the terrorists' military positions and movements in the towns of al-Latamineh, Kafar Zita, Tal al-Sukhr, al-Jisat, Latmin, al-Arbaeen, Hasaraya, Abu Raideh, Talmaleh, al-Jobin, Qastoun, Zizoun and al-Sohn in Northern Hama and Southern Idlib, destroying several of their military positions and hideouts together with their military equipment as well as killing and wounding a large number of them.
The Arabic-language al-Watan newspaper, meantime, reported that the Syrian Air Force conducted several air raids on terrorists' military positions in al-Tamana'eh, Kafar Sajneh, Jorjnaz, Talmaneh, Ma'ar Shourin and outskirts of Khan Sheikhoun in Southern Idlib, destroying their military positions and equipment.
The Syrian Observatory for Human Rights (SOHR) also reported that a massive military convoy of the Turkish Army comprising 30 military vehicles, tanks, military equipment and logistics supplies has arrived in Northern Idlib via Kafar Lousin crossing in Northern Idlib.
In a relevant development on Saturday, the Syrian Army warded off a heavy attack by Tahrir al-Sham and other terrorist groups on their positions in Northern Hama.
The Syrian Army engaged in fierce clashes with terrorists of Jeish al-Izza, elite forces of Tahrir al-Sham and Ansar al-Tawhid who had attacked the government forces' military positions in the town of al-Hamamiat in Northern Hama by using military tanks, vehicles and armored vehicles as well as suicide bombers from Tal al-Sakhr, al-Hobait, Kafar Zita, al-Arbaeen and al-Jobin.
Meantime, a military source noted that the terrorist groups had severely pounded the Syrian Army's military positions in Karnaz, Sheikh Hadid, Hamamiat and Saqilbieh with rockets before conducting their main attack, and said that the Syrian troops forced the terrorists to retreat after inflicting heavy losses on the militants.
The Syrian Army's artillery and missile units also hit the military positions and communication lines of the terrorists in the towns of al-Latamineh, Kafar Zita, al-Zuka, al-Arbaeen, Sheikh Mustafa and Tal al-Sakhr in Northern Hama, inflicting heavy losses on them and destroying their military equipment.
The Syrian Army' artillery and missile units also fully destroyed Tahrir al-Sham's arms depots and military equipment in Sarmin town East of Idlib, killing all the militants inside them.