Middle East
Bahraini Guards Shouted at Doctors: "You are Shiite Dogs and You are Treated Like Dogs Here"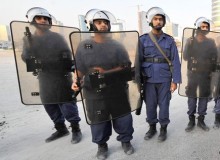 Accounts of human rights violations in Bahrain jails against Shiite opposition damage the picture western-backed rulers want to paint of a bright, civilised reign
According to the Shiite News monitoring desk,During more than two months in a Bahrain prison, the routine rarely varied: Alleged abuses by day such as beatings with a rubber hose, and then being blindfolded and dragged into a corridor at night to lie on cold tiles with others arrested in the Persian Gulf kingdom's crackdown on pro-reform protests.
The account — recounted to The Associated Press by a surgeon from Bahrain's main state-run hospital — is among many claims of rights violations as authorities crushed the Persian Gulf's main Arab Spring uprising. It also shows the huge challenges for Bahrain's Western-backed rulers to rebuild their image and lead reconciliation talks that began this month.
The allegations by the surgeon and other medical personnel remain some of the most politically sensitive between Bahrain's discriminate monarchy and the majority Shiites seeking a greater political voice in the strategic island nation, which is home to the U.S. Navy's 5th Fleet.
"They insulted us as 'Shiite traitors,'" said the doctor, who spoke on condition of anonymity because of fear of reprisals and worries about jeopardizing his defense in court.
"They kept saying we were ungrateful to the (Sunni) king and what he did for us. 'You don't deserve to stay in Bahrain,' they said."
The state hospital became contested ground after the uprising began in February as it was flooded with injured protesters — some wounded by live ammunition — and authorities conducted arrest sweeps in the wards. A total of 48 Shiite doctors and nurses, including the surgeon, still face a range of charges from supporting the protests to trying to overthrow the state.
But the claims of abuses while in custody could bring further international scrutiny on Bahrain's harsh tactics against demonstrators and are among the many bitter and unresolved tensions that could unravel the U.S.-encouraged talks between the leadership and opposition.
Bahraini officials did not immediately respond to an email request for comment on the doctor's allegations. The office of the country's information authority, which deals with foreign media, did not answer calls to their office.
"I was forced to say that people who were seriously injured and we operated on them to save their lives were not injured by the army or police during protests, but in the hospital by us doctors," the doctor told the AP from Bahrain by Skype to avoid possible mobile phone monitoring by authorities.
He was among 28 health professionals released from custody two weeks ago as they await trial on charges of aiding the protesters and issuing "false news" — widely considered a reference to speaking to foreign journalists. Twenty other doctors and nurses from the Salmaniya medical center face charges of trying to topple the government and remain in custody.
The doctor said he was first summoned by police in April, just weeks after Bahrain imposed temporary martial law-style rules and received military support from a Saudi-led force. He claimed he was beaten and questioned for hours before being forced to sign a confession — while blindfolded — saying that he inflicted injuries on patients and was responsible for the deaths of protesters.
He believes the documents will be used to shift the responsibility of deaths and injuries away from security forces.
At least 35 people have been martyred since February, including four who died in custody under severe torture. Hundreds of protesters, activists and Shiite professionals such as doctors and lawyers were detained; hundreds of other suspected opposition supporters were purged from jobs and universities.
For 75 days in custody, the doctor said he was often blindfolded and handcuffed and held in one of 12 cells in a hallway inside a prison in Muharraq, north of the capital Manama. Bloggers, protesters, nurses, doctors and activists were among other inmates.
Almost every night, the doctor said guards would drag them from their cells and cram them into a hallway. They sometimes stayed for hours on the tiled floors, blindfolded and their hands bound behind their backs, the doctor said.
By day, he claimed there were beaten with "a large rubber hose," chained to the ceiling and forced to stand for extended periods. During interrogations, the detainees from the hospital were spat on, kicked and punched, the doctor said.
"You are Shiite dogs and you are treated like dogs here," the doctor said the guards shouted at them. Later, he said they cranked up the volume of chants about killing Shiites with swords and cutting them to pieces, the doctor said.
"It was extremely loud and they played it again and again and again," the doctor said. "They had no evidence … and, under torture, they make you confess."
Bahrain's Shiites account more than 70 percent of the kingdom's population, but they claim systematic discrimination including being effectively blocked from top military and political posts. Their protests in February — inspired by wider Arab uprisings — have been by far the biggest challenge to any Persian Gulf ruler in decades.
The Salmaniya hospital has been a political hotspot since protests began. The mostly Shiite personnel was seen by discriminate authorities as protest sympathizers, although the staff claim they treated all who need care.
For many Shiites, the sprawling complex — sitting between fancy shopping malls and Western-style cafes in central Manama — is now as much a symbol of the rebellion as the city's Pearl Square, which protesters occupied for a month and the military overran in March and later destroyed the square's landmark 300-foot (90-meter) pearl monument.
Hours after marital law was declared on March 17 the army surrounded the Salmaniya hospital, set up military checkpoints and deployed commando-style troops in army green coveralls and black ski masks to patrol the outside walls. Soldiers and policemen roamed the hospital wards, storming into rooms and operating theater during surgery, hunting for wanted doctors and patients, interrogating them and detaining seriously injured patients.
In April, the group Physicians for Human Rights said in a report that the military attacked physicians, medical staff and patients in the Salmaniya complex "with weapons, beatings and tear gas as retaliation to the protests being held there." The U.S.-based group said the "brutal government crackdown casts doubt on the legitimacy of the charges against doctors."
Several of defendants' families reported "the disturbing allegations that their relatives are being tortured and forced to sign false confessions while in custody," said Richard Sollom, the group's deputy director.
Many protesters injured in recent clashes have avoided Salmaniya hospital — the only facility with extensive trauma care — out of fears they could be arrested on the spot.