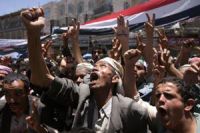 Tens of thousands of Yemenis have taken to the streets in the capital, demanding an end to US and Saudi interference in their country's internal affairs.
According to the Shiite News monitoring desk, carrying banners reading "Saudis and Americans, keep out of Yemen's affairs," anti-government protesters on Friday rejected Yemen's dependence on the US and Saudi Arabia, saying that their interference in Yemeni affairs  would only lead to more instability in the country.
Demonstrators also called for the immediate resignation of Ali Abdullah Saleh and the formation of a transitional council to rule the country and to prevent Saleh from returning to power.
Similar anti-Saleh demonstrations were also held in the southern city of Taizz.
This Friday's demonstrations came after Yemen's long-time dictator, Saleh, appeared on state TV for the first time since he was injured in an attack on his palace last month.
During his brief address on Thursday, Saleh gave no indication that he plans to step down in spite of almost daily anti-regime protests across the country and international pressure on him to resign.