Middle East
3 former editors of Bahrain opposition paper plead not guilty to unethical coverage of unrest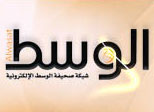 Three former top editors of Bahrain's main opposition newspaper pleaded not guilty Wednesday to charges of unethical coverage of Shiite-led opposition protests against the kingdom's Sunni rulers. The Al Wasat newspaper journalists entered their pleas and defense lawyers requested copies of prosecutors' documents in a brief hearing at Bahrain's Higher Criminal Court.
Among the charges they face are "publishing fabricated news." Former chief editor Mansoor al-Jamri, one of the journalists on trial, denied any wrongdoing.
"Al Wasat has a proven record of promoting reforms and democracy and we deny any allegation that we had pre-planned fabrication of news," he told The Associated Press.
"Our views and reporting were on the right side of history as we had always called for dialogue, peaceful and constitutional means for achieving a better democratic future." Al Wasat's printing facilities were damaged in mid-March when pro-government mobs stormed in and smashed equipment with metal pipes, clubs and axes.
The vandalism occurred about the same time that Bahrain's king declared a three-month state of emergency to quell the Shiite-led uprising against the Sunni dynasty that has ruled Bahrain for more than 200 years. Bahrain's Information Ministry ordered Al Wasat to stop printing in early April, but the ban was lifted after the top editors now on trial agreed to resign. It has been publishing since September 2002.
The case was adjourned until June 15.
A separate court postponed issuing a ruling Wednesday in a death-penalty appeal involving the killing two police officers during the unrest.
Four people were sentenced to death and three others to life in prison by a special security court set up under martial law in that case last month. An appeals division of the security court decided to hold off ruling on the seven defendants' appeals until Sunday, the state-run Bahrain News Agency reported.