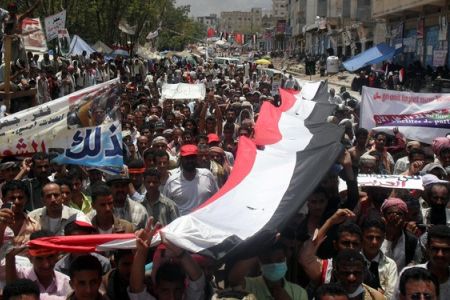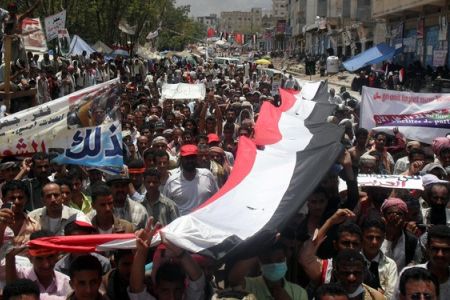 Yemeni anti-government protesters call for President Ali Abdullah Saleh's resignation during a demonstration in Taiz.
Yemeni anti-government protesters have dismissed a proposal by Persian Gulf Arab states suggesting that President Ali Abdullah Saleh pass power to his deputy.
"We are not concerned by any solution negotiated between the regime and the opposition that does not answer our main demand: the fall of the regime and its figures," said leading activist Adel al-Rabyi, from the Youth for Change coalition, AFP reported.
The reaction came a day after the member states of the [Persian] Gulf Cooperation Council ([P]GCC) presented a united front in calling on embattled Saleh to step down and hand over power to his deputy.
"We do not accept the hijacking of our revolution," said Rabyi, a representative of all youth groups in the capital Sana'a and other major cities.
Thousands of anti-regime protesters held a protest near Sana'a University On Monday, demanding the ouster and trail of the long-decades president.
"The people want to put the president on trial," they chanted.
Demonstrators in the Red Sea city of Hudaydah also echoed the same demands.
Saleh on Friday dismissed as "blatant interference in Yemeni affairs" a proposal for his exit made by Qatari Prime Minister Hamad bin Jassem al-Thani.
Inspired by the revolutions that toppled long-time rulers in Tunisia and Egypt, the Yemeni protesters took to the streets across the country to demand an end to the 23-year rule of Saleh.
Local sources say the death toll has surpassed 300 since anti-government protests began in late January.